Dzogchen Tregchö Mountain Dharma: A Thanksgiving Retreat
With Drubpön Lama Karma
November 21 - 25, 2018
Drubpön Lama Karma will teach two precious cycles of Dzogchen instructions composed by the recent master Dudjom Rinpoche (1904-1987). The first set of instructions is Extracting the Essence of Accomplishment: Straightforward Ultimate Guidance on the Practice of Mountain Dharma Training. This amazing set of clear and direct instructions explains in lucid detail why one would do retreat, the view, meditation, and conduct of Dzogchen, how to keep the samayas, and how to bring about the fruition of Dzogchen practice in this very lifetime. Having completed sixteen years of strict retreat, Lama Karma will draw on a wealth of experiential understanding on how to get the most out of our retreat experience. The second set of instructions is the Extremely Profound Ultimate Instructions on the Three Spaces: Pith Instructions of the Secret Cycle of the Great Perfection. In these instructions, outer space is the expanse of appearances and emptiness. Inner space is the naked nature of the mind free of conceptual thoughts. Secret space is the self-arisen all-pervasive luminosity of awareness. The goal is to merge all three inseparably in our Dzogchen practice.
A 4-wheel or All-wheel drive vehicle is absolutely necessary to access Tara Mandala in winter conditions.
This retreat is open to all.
Suggested Dana: $120-$160
Teacher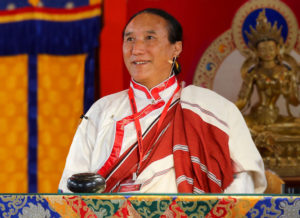 Drubpön Lama Karma
Venerable retreat master (Drubpön) Lama Karma was born in eastern Bhutan and joined the Long-Nying Chöling Monastery at a young age. His root teacher was Lama Naljorpa, the great yogi of Mahamudra and Dzogchen, from whom he received numerous vows, empowerments, instructions and oral transmissions, including the Chöd Rinchen Trengwa…
Learn more about Drubpön Lama Karma