Personal Retreat in Prajna Residence Hall
Open Dates
October 15 – April 10
A one-week minimum is required.
Mondays and Fridays are check-in and check-out days.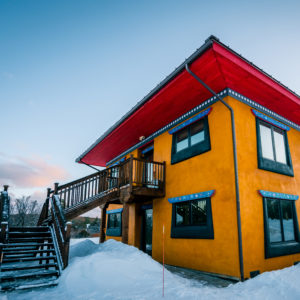 We are happy to announce that the Prajña Residence Hall will be open for personal retreats during the above dates, pending availability around group retreats. In cases of smaller group retreats, rooms may remain available. This is a great opportunity to do retreat in a supported and comfortable environment. Retreatants will be welcome at morning practice (seasonally), evening Protector's practice, and Tsog (ritual feasts) or may choose solo practice.
You will have your own spacious room large enough for prostrations and yoga. Each room has a sink with a granite counter top and wood floors with non-toxic natural finishes. There are shared baths and toilets on each floor.
From Monday to Thursday, two cooked meals a day (lunch and dinner) and on Friday one meal (lunch) will be provided in the Community Building. On weekends and at breakfast, meals are self-serve.
The kitchen will be accessible during breakfast and on weekends and at other prearranged times with the Kitchen Manager. Please note that in special circumstances, the kitchen may be closed during the week, and in such cases, meals will be self-serve. There will be an option for a silent table.
PRICING
Fees include meals, lodging, and full use of the facilities.
For 1 – 2 weeks: $450 / week
For 3 weeks: $400 / week
For 1 month: $1,500
CANCELLATION POLICY
Cancellations must be in writing. Cancellations received at least 60 days prior to the retreat start date receive a refund of the payment, minus a $100 fee.  Cancellations received between 59-31 days prior to the retreat start date receive a refund of 50% of the payment, minus a $200 fee. No refunds can be issued for cancellations received less than 30 days prior to the retreat start date.
APPLICATION PROCESS
Before you apply, please contact our Retreat Manager to check availability registrar@taramandala.org
Apply by clicking the register now button above.
A non-refundable $15 application fee is required.