Wisdom Rising: Journey into the Mandala of the Empowered Feminine
With Lama Tsultrim Allione
January 11, 2019
This evening talk is based on Lama Tsultrim Allione's new book: Wisdom Rising: Journey into the Mandala of the Empowered Feminine. A dynamic spiritual model based on 1000-year-old tradition from Tibet meets the gale force winds of the current world situation. She masterfully shows us the secret to harnessing the energy of the fierce wise dakini a previously forbidden aspect of the feminine, whose juicy potency is so needed now. Through the Dakini Mandala, a universal template of wholeness, each of the five dakinis, embodiments of the fierce feminine, transforms an emotional encumbrance into wisdom. The mandala brings strength from the inside out giving a practical method to become an effective agent of transformation in your world.
During this talk after an introduction to the mandala and the dakini principle you will be guided in a short experiential journey into the mandala of your innermost being, where the empowered feminine resides.
Followed by book signing.
Attendance of the Friday evening talk is obligatory for anyone attending the Saturday and Sunday retreat.
Teacher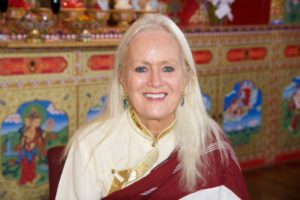 Lama Tsultrim Allione
Lama Tsultrim Allione is founder and resident lama of Tara Mandala.  She is author of Women of Wisdom and Feeding Your Demons. Born in New England to an academic/publishing family, she traveled to India in her late teens and was ordained as a Buddhist nun at the age of 22…
Learn more about Lama Tsultrim Allione