Wisdom Rising Mandala Training Level 1: Meeting the Mandala of the Five Wisdom Dakinis
With Lama Tsultrim Allione and Magyu Lopön Charlotte Rotterdam
May 31 - June 6, 2019
Experience transformation through the power of the mandala—a universal map for inner and outer balance, wholeness, and practical awakening. This training offers a journey into the Mandala of the Five Wisdom Dakinis, developed by Lama Tsultrim Allione to bring emotional transformation into alignment with the spiritual path. A template of wholeness, the mandala has as its basic structure the center and four directions, represented by five families of elements, colors, seed syllables, emotions, psychological types, and wisdoms.
The Wisdom Dakinis are female deities in Tantric Buddhism who embody profound wisdom and the empowered feminine. Lama Tsultrim writes, "They are luminous, subtle spiritual energy—the gatekeepers and guardians of unconditioned wisdom and sacred earth." In Tibetan art, they are depicted naked, except for ornaments, and dancing—wild and powerful.
In this experiential retreat, you will have the opportunity to focus on one of the Five Dakini Families, to explore your encumbered patterns more deeply and learn how to transform them into the wisdom of that particular family.
This meditation retreat includes
The Mandala of Five Dakinis (female embodiments of wisdom), a daily meditation practice you may continue at home

Three enhancement methods:

The 5-step practice of Feeding Your Demons® with the emotion of the chosen family

Guided journey with the Dakini of the chosen family

Mandala work through handmade art

Integration with the elements through meditation (outdoors if weather permits)

Further personal and dyad work relating to the five buddha families

Embodiment through movement inspired by the mandala principle
The Mandala of the Five Wisdom Dakinis offers you a practical method of finding strength and clarity within while empowering you to become an effective change agent in the world. Return home rejuvenated, with the guidance you need to activate all aspects of your being, from your body to your creative life and spiritual realization.
Note: This is the first step in the three Mandala Training Levels. The Mandala Trainings are situated within the Magyu Mother Lineage path yet may also be taken independently. There are no prerequisites for this retreat.
This retreat is open to all. During the retreat there will be noble silence.
Suggested Dana: $280 – $350
Teachers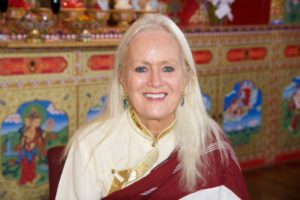 Lama Tsultrim Allione
Lama Tsultrim Allione is founder and resident lama of Tara Mandala.  She is author of Women of Wisdom, Feeding Your Demons, and Wisdom Rising: Journey into the Mandala of the Empowered Feminine. Born in New England to an academic/publishing family, she traveled to India in her late teens and was ordained as…
Learn more about Lama Tsultrim Allione