Cultivating the Heart of Compassion
With Drubpön Lama Karma
September 13 - 16, 2019
Mind Training, or Lojong, is a practical and inspiring teaching that transforms the mind afflicted by destructive emotions. At the heart of all practices of Tibetan Buddhism, Mind Training puts special emphasis on turning away from extreme self-centeredness and developing Bodhicitta mind, which wishes for the happiness of all sentient beings. Teachings in this retreat will center on how to cultivate compassion, patience, and wisdom. The retreat will include teachings, guided meditations, and discussion.
During this retreat Drubpön Lama Karma will teach from the Commentary on the Seven Point Mind Training (བློ་སྦྱོང་དོན་བདུན་མའི་འགྲེལ་པ།) by Sechilphu Choekyi Gyaltsen.
This retreat is open to everyone. No prior meditation experience is required.
Suggested Dana: $160 – $200
Teacher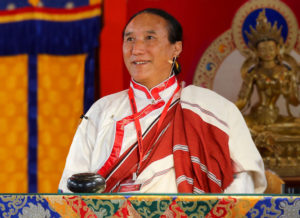 Drubpön Lama Karma
Venerable retreat master (Drubpön) Lama Karma was born in eastern Bhutan and joined the Long-Nying Chöling Monastery at a young age. His root teacher was Lama Naljorpa, the great yogi of Mahamudra and Dzogchen, from whom he received numerous vows, empowerments, instructions and oral transmissions, including the Chöd Rinchen Trengwa…
Learn more about Drubpön Lama Karma