White Dakini Drubchen only, August 1 – 10
With Drubpön Lama Karma and Lama Tsultrim Allione
August 1 - 10, 2019
The annual Drubchen (Great Accomplishment Ceremony) of the White Dakini practice from Do Khyentse's Dzinpa Rangdröl (Self-Liberation from Fixation) treasure cycle will be performed at Tara Mandala. This lineage comes directly from Dilgo Khyentse Rinpoche to Tulku Sang-ngag Rinpoche to Lama Tsultrim Allione. We will experience a traditional empowerment and we will be led through an in-depth process of learning and practicing the White Dakini mandala. This practice is the union of Machig Labdrön and Yeshe Tsogyel surrounded by the dakinis of the five families.
The use of Dharma attire is requested.
This retreat is open to all.
If you would like to apply for the Extended Karma Yoga program for this retreat please click here.
This is a required retreat for the Gateway Completes, Garudas, and Tiger students.
For White Dakini Drubchen with Teaching Days CLICK HERE
Suggested Dana: $400 – $500
Teachers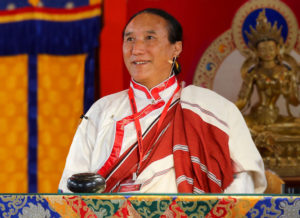 Drubpön Lama Karma
Venerable retreat master (Drubpön) Lama Karma was born in eastern Bhutan and joined the Long-Nying Chöling Monastery at a young age. His root teacher was Lama Naljorpa, the great yogi of Mahamudra and Dzogchen, from whom he received numerous vows, empowerments, instructions and oral transmissions, including the Chöd Rinchen Trengwa…
Learn more about Drubpön Lama Karma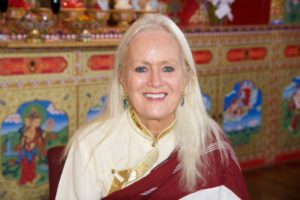 Lama Tsultrim Allione
Lama Tsultrim Allione is founder and resident lama of Tara Mandala.  She is author of Women of Wisdom and Feeding Your Demons. Born in New England to an academic/publishing family, she traveled to India in her late teens and was ordained as a Buddhist nun at the age of 22…
Learn more about Lama Tsultrim Allione