Undoing Patriarchy & Embodying Sacred Masculinity
With Lama Rod Owens
May 13 - 16, 2020
We will take up a dharmic lens to examine our relationship to violence and domination, power, femininity, love, and sexuality along a path to unveiling and honoring non-patriarchal expressions of who we are as human beings. Our intention is to illuminate how patriarchal expressions of self create suffering for all of us as we begin to develop a relationship to a more sacred masculinity. Our hope is that these efforts will not only further our own liberation, but begin to cultivate spiritual communities and a human world where both the sacred feminine and masculine are held in loving balance.
In this retreat you will have the opportunity to:
Unpack how patriarchy has shaped our expressions of masculinity and the self through meditation, dialogue, personal storytelling, journaling, and ritual.
Who Should Attend? 
This retreat is open to those who identify as male and/or male bodied. 

We offer our Equity, Diversity, and Inclusion Scholarship fund as a resource for anyone with financial limitations to make it possible to attend. For more information, visit our Scholarships and Financial Assistance Page. 
What To Expect?
This retreat will combine periods when noble silence will be observed with workshops and dialogue sessions.
To prepare for this retreat, we encourage you to:
Read Bell Hooks,

The Will to Change: Men, Masculinity, and Love.
Suggested Dana: $120 – $200
What is Dana?
Dana is a Pali word meaning "generosity." As one of the six paramitas or "perfections," the practice of generosity is an integral part of the Buddhist path. Dharma teachings are traditionally offered on the basis of dana which is offered to a teacher in recognition of the precious gift that has been given. Tara Mandala compensates teachers by only covering their travel and room and board while teaching. Tara Mandala suggests a range of dana for each retreat, based on the number of days in which the retreat will take place. There is an opportunity to give dana upon registration directly to the teacher(s) or at the end of each retreat, which is a special time of honoring what has been given and what has been received. For more information about Dana,

click here

.
Teacher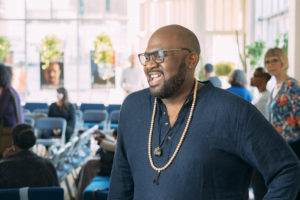 Lama Rod Owens
Lama Rod Owens is an author, activist, and authorized Lama (Buddhist Teacher) in the Kagyu School of Tibetan Buddhism. Lama Rod is the co-founder of Bhumisparsha, a Buddhist tantric practice and study community. Lama Rod is also a teacher with the Daishin Zen Buddhist Temple, the Urban Yoga Foundation, Inward…
Learn more about Lama Rod Owens