Gateway: Inner Rushen (By Invitation Only – Garudas)
With Lama Tsultrim Allione
July 13 - 19, 2020
This retreat is required for all Complete Transmission (Garudas) participants who have completed their samaya for the Outer Rushen practices. These are closed teachings open only to those who are part of the Garudas Complete Transmission Program.
If you are attending White Dakini Drubchö and wish to stay on the land between retreats, choose three extra nights. Extra night lodging is only an option for those taking two consecutive retreats.
Suggested Dana Range: $210-$350
What is Dana?
Dana is a Pali word meaning "generosity." As one of the six paramitas or "perfections," the practice of generosity is an integral part of the Buddhist path. Dharma teachings are traditionally offered on the basis of dana which is offered to a teacher in recognition of the precious gift that has been given. Tara Mandala compensates teachers by only covering their travel and room and board while teaching. Tara Mandala suggests a range of dana for each retreat, based on the number of days in which the retreat will take place. There is an opportunity to give dana upon registration directly to the teacher(s) or at the end of each retreat, which is a special time of honoring what has been given and what has been received. For more information about Dana,

click here

.
Teacher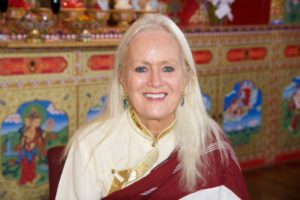 Lama Tsultrim Allione
Lama Tsultrim Allione is founder and resident lama of Tara Mandala.  She is author of Women of Wisdom, Feeding Your Demons, and Wisdom Rising: Journey into the Mandala of the Empowered Feminine. Born in New England to an academic/publishing family, she traveled to India in her late teens and was ordained as…
Learn more about Lama Tsultrim Allione