Buddhahood Without Meditation: Longchen Nyingthig P'howa
With Adzom Gyalse Rinpoche
August 20 - 24, 2020
The ability to transfer consciousness into an exalted state at the moment of death allows us to live without the fear of dying. Through P'howa, death becomes an opportunity for liberation instead of a mere severance from what we have known and loved in life. It assures us that we won't die in a state of spiritual uncertainty and drift helplessly after death. This P'howa is from the Longchen Nyingthig terma cycle, and it is a practice that is done for ourselves and others at the time of death.
Come join us for this rare opportunity to learn the Longchen Nyingthig Phowa sadhana with Adzom Gyalse Tulku Rinpoche.
In this retreat you will have the opportunity to:
Receive the Amitabha Buddha empowerment required for P'howa practice. 

Learn the Longcheng Nyingthig P'howa sadhana,

Transference: Enlightenment without Meditation from The Heart-Essence of the Vast Expanse

as revealed by Rigdzin Jigme Lingpa
Who Should Attend? 
Suggested Dana Range: $150 – $250
What is Dana?
Dana is a Pali word meaning "generosity." As one of the six paramitas or "perfections," the practice of generosity is an integral part of the Buddhist path. Dharma teachings are traditionally offered on the basis of dana which is offered to a teacher in recognition of the precious gift that has been given. Tara Mandala compensates teachers by only covering their travel and room and board while teaching. Tara Mandala suggests a range of dana for each retreat, based on the number of days in which the retreat will take place. There is an opportunity to give dana upon registration directly to the teacher(s) or at the end of each retreat, which is a special time of honoring what has been given and what has been received. For more information about Dana,

click here

.
Teacher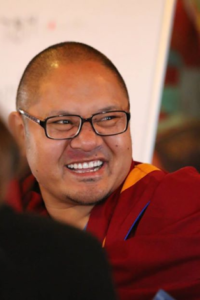 Adzom Gyalse Rinpoche
Adzom Gyalse Rinpoche is the reincarnation of Adzom Gyalse Gyurme Dorje, who was the son of Adzom Drukpa Pawo Dorje, and born in the year of the Iron-monkey (1980); in Bumthang, a region of central Bhutan, which was blessed as a hidden sacred land by Guru Padmasambhava; within a nomad family, he is…
Learn more about Adzom Gyalse Rinpoche