Liberation is Now: Engaging the Mind to Discover It Moment by Moment
With Jetsunma Tenzin Palmo
August 27 - 29, 2020
Join us for a special retreat with one of the most beloved and influential female senior Buddhist teachers in the West today, Jetsunma Tenzin Palmo. Jetsunma will give teachings on a text by Jamgön Kongtrul Lodrö Thaye titled Advice Given To Lhawang Tashi. The teachings of this text state that "All of saṃsāra and nirvāṇa are your own mind…they don't arise from anything else in the slightest."
In this retreat you will have the opportunity to:
Receive Jetsunma's teachings which are a beautiful combination of earthy practicality and deep wisdom

Learn how to cultivate and turn our mind towards the Dharma, embracing liberation beyond return.  
Who Should Attend? 
This retreat is open to all.
Registration for this retreat includes:
To prepare for this retreat, we encourage you to:
Read

Advice Given To Lhawang Tashi

by Jamgön Kongtrul Lodrö Thaye  –

– the text and download can be found here

.

 

Read

Cave in the Snow: A Western Woman's Quest for Enlightenment

by Vicki MacKenzie.
Suggested Dana Range: $90 – $150
What is Dana?
Dana is a Pali word meaning "generosity." As one of the six paramitas or "perfections," the practice of generosity is an integral part of the Buddhist path. Dharma teachings are traditionally offered on the basis of dana which is offered to a teacher in recognition of the precious gift that has been given. Tara Mandala compensates teachers by only covering their travel and room and board while teaching. Tara Mandala suggests a range of dana for each retreat, based on the number of days in which the retreat will take place. There is an opportunity to give dana upon registration directly to the teacher(s) or at the end of each retreat, which is a special time of honoring what has been given and what has been received. For more information about Dana,

click here

.
Note: On the last day of your retreat, we are hosting a screening of Precious Guru: Journey into the Wild Heart of the Second Buddha, a film directed by Marc Wennberg and in which many teachers and luminaries such as Lama Tsultrim are interviewed. The screening will be at 3pm at The Liberty Theater in Pagosa Springs. The screening will be followed by a brief Q&A session with the director. We encourage you to attend to support this film. There is no registration needed and it is free. However, we encourage a $10 – $20 donation at the door. If you'd like to stay overnight on August 29, consider adding an extra night on your registration for this retreat.
Teacher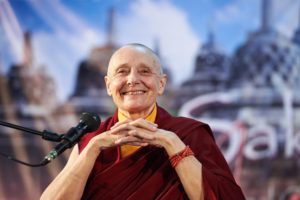 Jetsunma Tenzin Palmo
Jetsunma Tenzin Palmo was born in England in 1943 and named Diane Perry. She and her older brother were raised by her mother in the Bethnal Green area of London after her father's death when Diane was 2 years old. Mrs Perry was a spiritualist who held séances in the…
Learn more about Jetsunma Tenzin Palmo