Dance in the Mandala of the 21 Praises of Tara: Praise Her, Embody Her, Discover Your Own Perfection
With Prema Dasara
September 23 - 28, 2020
"I have never seen such deep devotion in dance … it is an accumulation of wisdom as well as merit."  – H.E. Tai Situ Rinpoche
"Wonderful, share it with the world"  – H.H. the Dalai Lama
"A dance without ego. Watching, I was transported, in an altered state. We were in Tara's Pure Land. We were all practicing together. This is a true sadhana practice."
 –  Anam Thubten
This dance offering is based on a mind treasure of the great Terton Chokgyur Lingpa. Arranged and choreographed by Prema Dasara, a western female dancer and dharma guide, it has been offered to some of our most revered Tibetan masters for the past 33 years. During this retreat dancers will join in practices, meditation, and dances that guide the participant into the depths of their relationship with Tara; the Tara before us, the Tara we are.
Employing the power of mantra, the profound techniques of Tibetan Buddhist mind training and focused intention, and utilizing movement meditation as a vehicle of empowerment, we dance to embody Buddha Goddess Tara, revealing Her sublime qualities to the world. With each sacred offering, we pray that the earth and all beings are blessed and healed, that all may be happy and free from suffering.
In this retreat you will have the opportunity to:
Learn the mudras, mantras, meditations, and movements of the Mandala Dance of Tara as well as other foundational Tara Dhatu dances such as Refuge, Bodhicitta, Shantideva's Aspiration Prayer, Prayer of Motivation, and more.
Who Can Attend? 
This retreat is open to all.

The movements are simple; no dance experience is necessary. The mandala will be composed of dancers with all levels of experience. 
Are there prerequisites or physical limitations?
No, there is a place for everyone in the mandala. Men and women start in the circle of protection. Dancers who are not ambulatory are placed in a safe position where they can participate by doing mudras and meditations.

While there will be a final performance and offering, participants who do not wish to or cannot dance in that performance are welcome to learn the dances and the meditations, and to be part of the noble audience.
Are there specific supplies, materials, or attire needed?
We encourage comfortable clothing that is easy to move in. 

One performance will be with elaborate masks and costumes. Though not required, participants are encouraged to bring skirt and choli undergarments to help ensure a range of costuming. If such attire is unavailable, we encourage you to bring something white that is attractive for a performance. 

Dancers are encouraged to bring their own jewelry. 
To prepare for this retreat, you are encouraged to:
Read

Dancing Tara: A Manual of Practice

by Prema Dasara

Obtain the

Mandala Dance of Tara Text

by Prema Dasara. 

Download the music of the dances and listen.
Note: All of this material and information can be obtained at Tara Dhatu. 
Suggested Dana Range: $180-$300
What is Dana?
Dana is a Pali word meaning "generosity." As one of the six paramitas or "perfections," the practice of generosity is an integral part of the Buddhist path. Dharma teachings are traditionally offered on the basis of dana which is offered to a teacher in recognition of the precious gift that has been given. Tara Mandala compensates teachers by only covering their travel and room and board while teaching. Tara Mandala suggests a range of dana for each retreat, based on the number of days in which the retreat will take place. There is an opportunity to give dana upon registration directly to the teacher(s) or at the end of each retreat, which is a special time of honoring what has been given and what has been received. For more information about Dana,

click here

.
Teacher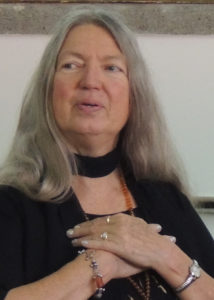 Prema Dasara
Prema Dasara is an international teacher of sacred dance and dharma. She is the creator of the Mandala Dance of the 21 Praises of Tara. This profound practice is a vehicle of empowerment, calling forth from dancers and audience the highest expression of wisdom and compassion. Her dances have been…
Learn more about Prema Dasara