Meeting the Wisdom Mother
With Shiva Rea and Lama Tsultrim Allione
May 5 - 9, 2020
COVID-19 Update – 04.06.20
Tara Mandala is closely monitoring the coronavirus (COVID-19) situation. Our planning is focused on ensuring the safety of our dharma practitioners, teachers and members of our staff.
At this time, Lama Tsultrim and Shiva Rea are re-envisioning this retreat as an online offering. If you have already registered for this retreat, you will receive an email from us by Monday, April 13 with more information on how to join the new online offering and/or instructions to receive a full refund.
Please refer here to our novel coronavirus (COVID-19) official response.
During this retreat approaching Mother's Day, we will explore the Great Wisdom Mother, and her historical emanation Machig Labdrön, the 11th century Tibetan Yogini. Many of us suffer from a lack of connection with the Wisdom Mother and could benefit from methods and experiences connecting us to her. How can we find the Great Mother within? 
During our retreat we will: 
Journey to find the inner Wisdom Mother and learn methods to access her. 

On May 7th, Machig Labdrön's birthday, we will do a day-long ancient ceremony,

Rinchen Trengwa

(Garland of Precious Jewels), based on the Chöd practice using a bell and drum, chanting 11th century melodies. Lama Tsultrim will guide us through the day and give us an introduction the day before and you will have a translated text to follow along. 

Shiva will guide the group in movement and embodiment practices connected to the Great Mother. 
Join us in this juicy, rich connection with the Wisdom Mother. The retreat ends at noon on Saturday so you can still be home for Mother's Day celebrations on Sunday if you wish.
What do I need to bring?
Please bring a yoga mat and any props needed.

If you have a Chöd drum and bell, we encourage you to bring them, though it is not required.

The use of dharma attire/ritual clothing is encouraged for May 7th. Ritual clothing includes anything white and/or in the red color spectrum from deep purple to pink and red. You can wear any clothes you have in this color spectrum as long as they are modest, covering your shoulders and legs.
Who Should Attend?
This retreat is open to everyone.
Please note that we suggest a Dana range for the teachers in this retreat. In addition, you will have the opportunity to offer Dana to the teachers leading the Machig Labdrön's daylong birthday ceremony.
Suggested Dana Range: $150 – $250
What is Dana?
Dana is a Pali word meaning "generosity." As one of the six paramitas or "perfections," the practice of generosity is an integral part of the Buddhist path. Dharma teachings are traditionally offered on the basis of dana which is offered to a teacher in recognition of the precious gift that has been given. Tara Mandala compensates teachers by only covering their travel and room and board while teaching. Tara Mandala suggests a range of dana for each retreat, based on the number of days in which the retreat will take place. There is an opportunity to give dana upon registration directly to the teacher(s) or at the end of each retreat, which is a special time of honoring what has been given and what has been received. For more information about Dana,

click here

.
Teachers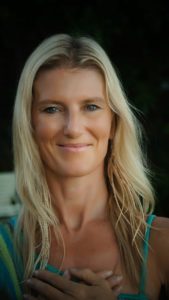 Shiva Rea
Shiva Rea bows to the master teachers, elders and grandmothers from around the world from Africa to Asia who have expanded and deepened her integration of yoga and movement meditation. With a M.A. in World Arts and Cultures, Shiva is the founder of Global School of Living Yoga, Prana Vinyasa,…
Learn more about Shiva Rea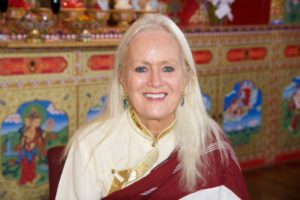 Lama Tsultrim Allione
Lama Tsultrim Allione is founder and resident lama of Tara Mandala.  She is author of Women of Wisdom, Feeding Your Demons, and Wisdom Rising: Journey into the Mandala of the Empowered Feminine. Born in New England to an academic/publishing family, she traveled to India in her late teens and was ordained as…
Learn more about Lama Tsultrim Allione