Dakini Ngöndro: The Excellent Path of Great Bliss – VIRTUAL RETREAT
With Lama Tsultrim Allione and Tulku Ösel Dorje
July 5 - 9, 2020
A Tara Mandala Virtual Retreat 
Due to the necessities of these times, this exceptional Dakini Ngöndro from A.dzom Rinpoche's Ösel Nyingtig terma cycle was revealed at the behest of Lama Tsultrim Allione and was transcribed with the help of Tulku Ösel Dorje who will be teaching this retreat alongside Lama Tsultrim. This cycle for accomplishing the Dakini Yeshe Tsogyal was first revealed in Tibet at Yeshe Tsogyal's birthplace. At that time Yeshe Tsogyal actually revealed her face to A.dzom Rinpoche and it was later encoded at Tara Mandala.
REGISTRATION FOR THIS PROGRAM WILL CLOSE ON 07/04/20 AT 8PM MOUNTAIN TIME. THERE WILL BE NO LATE REGISTRATIONS ALLOWED.
What is Ngöndro?
The Tibetan word

ngöndro

, which means "that which goes before" or "preliminaries," refers to a collection of practices that condense all the teachings into skillful methods that essentialize the wisdom of the Buddhas and

Guru Rinpoche

for actualizing one's own primordial wisdom.  
What to Expect?
Who Can Attend?
Anyone who has a heartfelt connection with the Ösel Nyingtig. This path is open to everyone who feels a connection, can devote themselves to daily meditation practice (see expectation above on keeping samaya), and is inspired to do this practice which offers a complete path to awakening.
How To Prepare and What to Bring?
If you don't have an established daily meditation practice already, we encourage you to begin one in preparation for this retreat.

The teachings in this retreat are suitable for anyone who has had several years in Vajrayana practice. 

Some familiarity with teachings on Prajñaparamita, Chöd, and Green Tara is highly recommended. 

You will need a mala for this retreat. You can purchase a mala in our Dakini Store.
What is a Virtual Retreat?
Our Virtual Retreat is a Tara Mandala At-Home intensive retreat during which you will receive teachings, engage in guided practice, and connect with other participants through an easy-to-use online platform (Zoom). We encourage you to create a retreat environment during our days together, by setting aside a dedicated retreat space, removing yourself as much as possible from social media, and taking care of necessities with the mind of compassion in action.
This retreat is meant to be attended live, however the entire retreat will be available for 7 days after the end of the retreat for additional viewing.
I registered for the original onsite retreat, what can I do?
If you have signed up for the onsite retreat at Tara Mandala, you can easily convert your registration to this new Virtual Retreat offering. Please connect with our Registrar to do this at registrar@taramandala.org.
Tiered-Prices
We're asking our community to support Tara Mandala financially by considering our tiered-pricing model for our virtual retreats which we are launching  in 2020 to support those in our community that cannot travel due to the pandemic. These are difficult times for everyone, and Tara Mandala is no exception. We encourage you to pay at the highest level within your capacity to support Tara Mandala, our staff, and our sangha. We thank you in advance for your support and your practice!
$400 – Essential Level
Registration at this level helps Tara Mandala cover basic costs of holding this specific retreat, including compensating our teachers. 
$490 – Luminous Level (includes a 20% discount for self-paced online courses valid for 3 months)
Registration at this level helps support basic costs of this retreat, and additionally supports our onsite staff  at Tara Mandala during this year of uncertainty.
$540 – Mandala Level (includes a 30% discount for self-paced online courses valid for 3 months)
Registration at this level helps Tara Mandala cover basic costs for this retreat, supports staff, facilities maintenance and other critical operational needs onsite this year.
Any additional contribution to our Annual Fund will allow Tara Mandala Retreat Center to continue to be a year-round center, a repository for wisdom literature, a center for translation, a beacon for the feminine in Buddhism, an active dharma center with weekly dharma study and practice that provides refuge for deep practice and transformation. If you are able to provide a generous contribution beyond the prices listed above, you will also have the opportunity to do so in your registration and/or during the retreat.
Similarly, if you would like to offer Dana to the teachers leading this retreat, the information to do so will be provided during the virtual retreat sessions.
VIRTUAL RETREAT SCHEDULE
Listed times are the online portions of the retreat. All times are Mountain Time. If you are attending from another time zone, please know that recordings will be made available by 8pm MT daily so you can review missed sessions. 
Please use this link to see how this daily schedule translates into your timezone.
Sunday, July 5:
10:00am -12:00pm MT: Teaching Session with Tulku Ösel
3:00pm – 5:00pm MT: Teaching Session with Lama Tsultrim
Monday – Wednesday: July 6 to July 8
9:00am – 9:45am MT: Practice Session with Tulku Ösel
11:00am -1:00pm MT: Teaching Session with Tulku Ösel
3:00pm – 5:00pm MT: Teaching Session with Lama Tsultrim
Thursday, July 9:
11:00am -1:30pm MT: Closing Session and Tsog with Lama Tsultrim and Tulku Ösel (Lung will be offered during this session, which MUST BE ATTENDED LIVE.)
Teachers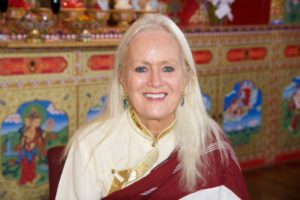 Lama Tsultrim Allione
Lama Tsultrim Allione is founder and resident lama of Tara Mandala.  She is author of Women of Wisdom, Feeding Your Demons, and Wisdom Rising: Journey into the Mandala of the Empowered Feminine. Born in New England to an academic/publishing family, she traveled to India in her late teens and was ordained as…
Learn more about Lama Tsultrim Allione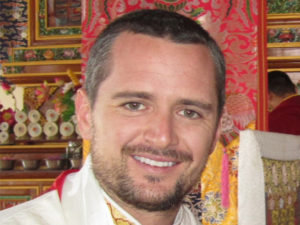 Tulku Ösel Dorje
From his own personal retreat practice, Ösel Dorje has gained a strong appreciation for the importance of developing a deep understanding of the philosophical side of Buddhist study, while bringing it to life through meditation experience. Inspired by stories of realized masters of the past, Ösel Dorje has spent time…
Learn more about Tulku Ösel Dorje