Writing and Contemplation: Becoming Intimate with Ourselves – VIRTUAL RETREAT
With Victress Hitchcock
October 16 - 17, 2020
A Tara Mandala Virtual Retreat 
Join author and filmmaker Victress Hitchcock for a day-long retreat for writers and others who want to dive deep into the experience of being alive in this extraordinary changing world. 
Through periods of contemplation and writing practice we will explore ways to reflect on and express in words the experience of this moment by moment, constantly shifting, dance we call living.
What to Expect?
During this day of retreat participants will alternate time for meditation and contemplation with periods of writing and sharing our writing with each other in a virtual open space. 

No writing or meditation experience required. Just bring your notebook and a spirit of adventure!
About Victress:
A long time Buddhist and filmmaker, Victress' works include – Blessings: The Tsoknyi Nangchen Nuns of Tibet and When the Iron Bird Flies: Tibetan Buddhism Arrives in the West. In 2013 she was authorized as a Buddhist teacher by Anam Thubten. Since retiring from production in 2017, she has become a writer of poetry and non-fiction. She has published three collections of poetry including Hello Honey: 18 Poems from the Path and most recently Whoosh – Stripped Bare.  She is working on a memoir, entitled A Tree with my Name on it, of her years living alone on a ranch in the mountains of Colorado. For more information on Victress' films and writing and to purchase copies of Hello Honey and Whoosh Stripped Bare go to victresshitchcock.com.
Who Should Attend? 
The retreat is open to everyone, no writing experience needed.

We offer scholarships and deferred payment plans as resources for anyone with financial limitations. For more information and to apply, visit our Scholarships and Financial Assistance Page.
What Do I Need?
You will need a journal, a pen, and a quiet space.
Optional: To enhance your sacred space, we've curated a special bundle for this retreat with items from our Dakini Store. This is a wonderful way to support Tara Mandala. See the Writing and Contemplation Retreat Bundle here.
What is a Virtual Retreat?
Our Virtual Retreat is a Tara Mandala At-Home intensive retreat during which you will be able to engage in contemplative practice and meditation as well as share and connect with other participants through an easy-to-use online platform (Zoom). We encourage you to create a retreat environment during our time together, by setting aside a dedicated retreat space, removing yourself as much as possible from social media, and taking care of necessities with the mind of compassion in action.
This retreat is meant to be attended live, however the entire retreat will be available for 7 days after the end of the retreat for additional viewing and reference.
Tiered-Prices
We're asking our community to support Tara Mandala financially by considering our tiered-pricing model for our virtual retreats which we are launching in 2020 to support those in our community that cannot travel due to the pandemic. These are difficult times for everyone, and Tara Mandala is no exception. We encourage you to pay at the highest level within your capacity to support Tara Mandala, our staff, and our sangha. We thank you in advance for your support and your practice!
$80 – Sustaining Level
Registration at this level helps Tara Mandala cover basic costs of holding this specific retreat, including compensating our teachers. 
$98 – Sponsor Level (includes a 20% discount for self-paced online courses valid for 3 months)
Registration at this level helps support basic costs of this retreat, and additionally supports our onsite staff  at Tara Mandala during this year of uncertainty.
$108 – Benefactor Level (includes a 30% discount for self-paced online courses valid for 3 months)
Registration at this level helps Tara Mandala cover basic costs for this retreat, supports staff, facilities maintenance and other critical operational needs onsite this year.
Any additional contribution to our Annual Fund will allow Tara Mandala Retreat Center to continue to be a year-round center, a repository for wisdom literature, a center for translation, a beacon for the feminine in Buddhism, an active dharma center with weekly dharma study and practice that provides refuge for deep practice and transformation. If you are able to provide a generous contribution beyond the prices listed above, you will also have the opportunity to do so in your registration and/or during the retreat.
Similarly, if you would like to offer Dana to the teachers leading this retreat, the information to do so will be provided during the virtual retreat sessions.
VIRTUAL RETREAT SCHEDULE
Listed times are the online portions of the retreat. All times are Mountain Time. If you are attending from another time zone, please know that recordings will be made available by 8pm MT daily so you can review missed sessions. Recordings will expire seven days after the retreat concludes.
Please use this link to see how this daily schedule translates into your timezone.
October 16:
6:30pm – 7:45pm: Opening Gathering 
October 17:
8:00am – 8:45am: Guided Meditation (optional)
9:00am – 12:00pm: Session 1 – Introduction followed by contemplation and writing practice
2:00pm – 5:00pm: Session 2 — Contemplation and writing practice followed by break out groups to share writing
6:00pm – 7:00pm: Closing Gathering
Teacher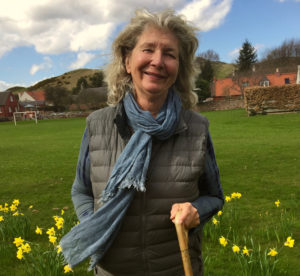 Victress Hitchcock
A long time Buddhist and filmmaker, Victress' works include – Blessings: The Tsoknyi Nangchen Nuns of Tibet and When the Iron Bird Flies: Tibetan Buddhism Arrives in the West. In 2013 she was authorized as a Buddhist teacher by Anam Thubten. Since retiring from production in 2017, she has become…
Learn more about Victress Hitchcock