Ösel Nyingtig Cycle- Tröma Nagmo Empowerment and Explanation: The Path of Secret Primordial Wisdom – Retreat in California
With Lama Tsultrim Allione and Tulku Ösel Dorje
September 15 - 18, 2022
This amazing practice for accomplishing Tröma, the Black Wrathful Mother, known as 'Secret Primordial Wisdom' was the first of many Ösel Nyingtig termas to be revealed at Tara Mandala under extraordinary circumstances on the full moon of December 2002, by A.dzom Paylo Rinpoche. It has been practiced in secrecy by the original recipients since its revelation and now that the time period of the seal of secrecy has been lifted, A.dzom Rinpoche has requested that Lama Tsultrim Allione and her son Tulku Ösel Dorje share this profound terma in his stead.
According to Rinpoche's wishes, participants of this retreat will receive the recently revealed Tröma empowerment (Tib. wang), the oral transmission (Tib. lung), and the explanation (Tib. tri) for the practice of Tröma.
Who Can Attend?
This retrea

t is the gate to the Tröma Cycle of Ösel Nyingtig and is open to all those who are a member of the Ösel Nyingtig program, anyone who has completed a ngondro (preliminary practices), or has received this teaching from A.dzom Paylo Rinpoche.

Please be advised that

the registration capacity for this retreat is limited to 140 persons and is offered on a first-come, first-served basis

for members of the Ösel Nyingtig program.

If you reside in Europe and are already a member of the Ösel Nyingtig program, please know that Tulku Osel Dorje will be offering this empowerment in Germany later in the autumn of 2022. Registration for the Germany empowerment sessions will open as soon as the dates are confirmed.    
Due to the Covid-19 pandemic, in order to attend this retreat, please note the following requirements:
You must be fully vaccinated against Covid-19 and must have completed all series of vaccination doses and boosters recommended by your own government and based on your age, where needed, at least 2 weeks prior to arriving at the retreat center.

Please

visit this page

to submit a scanned image of your Covid-19 vaccination card (or similar form of evidence) and to review and submit acknowledgement of our Tara Mandala's

Visitor Release and Waiver of Liability

and

Tara Mandala's Assumption of Risk and Waiver of Liability Relating to Coronavirus/Covid-19

which you will be asked to sign in-person upon arrival.

All registrants will be required to submit proof of vaccination while checking in at the registration table. They will need to either provide the original card, a photo of their vaccination cards (on their phone is acceptable), or other verification before being allowed to enter Orgyen Dorje Den.
Orgyen Dorje Den requires two booster shots of the Covid-19 vaccine to enter the temple. This is subject to availability by age demographic. At this point, those over 50 years old can acquire the second booster and are required to do so in order to be allowed to enter Orgyen Dorje Den for the retreat.
The current CDC Guidelines recommend that 12 and older have one booster shot and 50 and older can acquire the second booster.
Retreat Location and Details
This retreat will take place at Orgyen Dorje Den in Alameda, CA. 
Location: 
Orgyen Dorje Den
2244 Santa Clara Avenue
Alameda, CA 94501
PLEASE NOTE:  All registered participants will be responsible for securing their own lodging and meals. The listed tuition only includes the cost to attend the program. 
On September 15

registration opens at 3:00pm (PT) at Orgyen Dorje Den. 

We advise participants to plan their travel arrangements to arrive in the morning of the 15th and check in at their lodgings before checking in at Orgyen Dorje Den during the registration period from 3:00-6:00 pm (Pacific Time). 

On the last day

,

September 18,

we expect this retreat to end with Tsog by 3:00pm at the latest. Please make your travel arrangements to allow for departures after that time. 
Tiered-Prices
Tara Mandala is working to expand opportunities for access to Buddhist teachings and practices while offering an equity-informed fee structure when possible. With our new tiered pricing, we strive to make the Dharma more accessible to all while furthering the important conversations that must happen around current structures that inhibit equal access to underprivileged communities. We encourage you to select the registration tier at the highest level within your capacity to assist Tara Mandala in covering the costs of offering these wonderful teachings. We thank you in advance for your support and your practice!
PROGRAM FEE
$225– Access Level
Registration at this level is offered below the cost of holding this retreat to assist participants with financial limitations and encourage the exploration and practice of dharma.
$297 – Tier 1
Registration at this level covers the basic costs for this retreat and allows Tara Mandala to maintain sustainability.
$398 – Tier 2
Registration at this level covers the program costs for this retreat and provides additional support for the year-round work of Tara Mandala.
Choosing the Tier 1 or Tier 2 levels allows Tara Mandala to continue to make dharma teachings accessible and inclusive while also allowing its year-round operations to continue and expand while being a repository for wisdom literature, a center for translation, a beacon for the feminine in Buddhism. Tara Mandala is an  active dharma organization, retreat center that provides refuge for deep practice and transformation.
There are many ways to support and engage with Tara Mandala's worldwide activities. Click here to learn more. We appreciate your support and generosity!
Offering dana to the teacher: The practice of offering dana, which means "generosity," is the traditional offering the student makes to the teacher as a symbol of appreciation, gratitude, and reciprocity for receiving the precious teachings. Information on offering dana to the teacher will be provided during the retreat. To learn more about dana and suggested dana ranges, please click here. 
Payment Plans
Tara Mandala offers deferred payment plans as resources for anyone with financial limitations. For more information and to apply, visit our Scholarships and Financial Assistance Page. 
Sustaining Sangha:
If you are currently a member of our Sustaining Sangha, you may apply your retreat discount to this retreat.
Click Here for Our Onsite Retreat Cancellation and Refund Policy
Leaders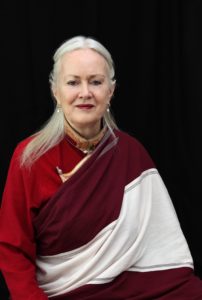 Lama Tsultrim Allione
Lama Tsultrim Allione is the bestselling author of Women of Wisdom (1984), Feeding Your Demons (2008), and Wisdom Rising Journey into the Mandala of the Empowered Feminine (2018). Lama Tsultrim is the founder of Tara Mandala, a 700-acre retreat center with the three-story temple and library  dedicated to the divine…
Learn more about Lama Tsultrim Allione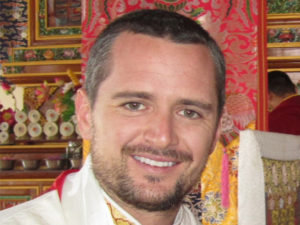 Tulku Ösel Dorje
From his own personal retreat practice, Ösel Dorje has gained a strong appreciation for the importance of developing a deep understanding of the philosophical side of Buddhist study, while bringing it to life through meditation experience. Inspired by stories of realized masters of the past, Ösel Dorje has spent time…
Learn more about Tulku Ösel Dorje