Where does our lineage come from?
Lama Tsultrim's Teachers
and Wisdom Rising that celebrate women in Buddhism, connect the wisdom of Tibetan Buddhism with modern life, and explore Buddhist teachings on the empowered feminine.
Lama Tsultrim focuses on the teachings of Dzog Chen and the lineage of Machig Labdrön, the founder of the Chöd lineage. Her teachings arise from the blessings of her many wonderful Tibetan teachers, her experience as a Western woman and mother, and over forty years of practice and dedication to the Buddhist teachings. Lama Tsultrim has studied Tibetan Buddhism under traditional teachers for more than 45 years.
16th Karmapa Rangjung Rigpe Dorje
The sixteenth Gyalwa Karmapa, (August 14, 1924 – November 5, 1981) was the spiritual leader of the Karma Kagyu lineage, one of the four largest schools of Tibetan Buddhism.  He was born in Derge province in Eastern Tibet and was discovered based on a letter left by the previous Karmapa Khakhyab Dorje (1871-1922). In 1931  he was ordained as a novice monk and at the age of 23 received his final ordination along with the initiations and explanations of the highest Karma Kagyu teachings. 
In 1959, due to the occupation of Tibet, Karmapa left Tsurphu monastery and settled in Bhutan where he undertook the construction of a new monastery in Rumtek, which became Karmapa's official seat outside Tibet and a center of Buddhist study, ritual, and practice. The Karmapas are the holders of the Black Crown and are thus sometimes known as "the Black Hat Lamas". This crown is traditionally said to have been woven by the dakinis from their hair and given to the Karmapa in recognition of his spiritual realization.  Lama Tsultrim received her ordination from Karmapa in  1969 in Bodhgaya.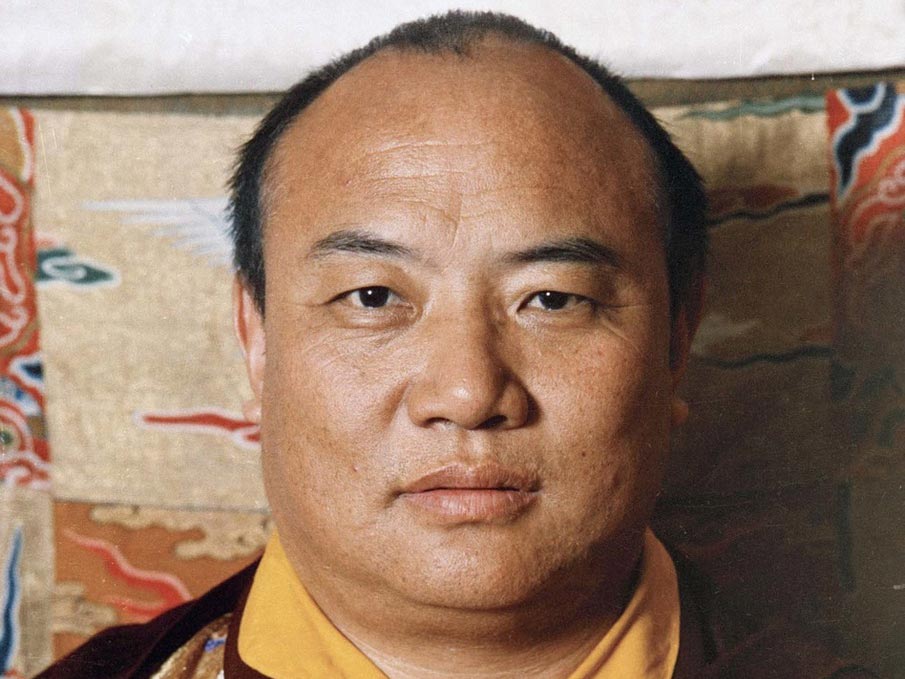 Kalu Rinpoche
Kalu Rinpoche (1905 – May 10, 1989) was a Buddhist lama, meditation master, scholar and teacher. He was one of the first Tibetan masters to teach in the West.  He was an outstanding Tibetan Tantra Master who meditated in retreat caves and hermitages for more than 30 years. In the late 1960s Kalu Rinpoche began to attract Western disciples in India. By the 1970s, he was teaching extensively in the Americas and Europe, and during his three visits to the West he founded teaching centers in over a dozen countries. In France, he established the first retreat center to teach the traditional three-year retreats of the Shangpa and Karma Kagyu lineages to Western students.  Lama Tsultrim received the Kagyu Ngondro from Kalu Rinpoche.
Apho Rinpoche
Apho Yeshe Rangdrol (1922-1974) was the grandson of the great Drukpa Kagyu yogi Shakya Shri. His seat in Tibet was called Kyiphug, a retreat center. After his escape from Tibet he lived in the Himalayan border areas of Ladakh, Lahoul, Spiti and Pange, where he started a number of 3-year retreat centers, and eventually settled in Manali in 1971, where he built a home. He became a widely respected yogi. He was a humorous and compassionate enlightened Master who touched the hearts and minds of many people in Tibet, and in the Himalayan regions and of most of the early Western students of Tibetan Buddhism. Lama Tsultrim completed her ngondro in a small cabin behind his home in the early 1970's.   She also received the the Naro Sang, Chod, Ph'owa and Shine Latong in the tradition of Shakya Shri from him.
Chögyam Trungpa Rinpoche
Chögyam Trungpa (March 5, 1939 – April 4, 1987) was a Buddhist meditation master and holder of both the Kagyu and Nyingma lineages, and the eleventh Trungpa tülku   His main teachers were Shechen Kongtrul Pema Drimé Lekpé Lodrö, Dilgo Khyentse Rinpoche, the Sixteenth Karmapa, and Khenpo Gangshar.  He arrived in the United States in 1970 where he became a major figure in the introduction and dissemination of Tibetan Buddhism teachings to the West . He founded Naropa University and Shambhala International.  He is the author of numerous books, including Shambhala: The Sacred Path of the Warrior, Cutting Through Spiritual Materialism, The Myth of Freedom as well as the translation of many traditional texts.  Lama Tsultrim was the first teacher Chogyam authorized to teach.  She received numerous practices from him including Shamatha, Vajrayogini and Kagyu Ngondro.   
Chögyal Namkhai Norbu
Chögyal Namkhai Norbu (1938 – September 27, 2018) was born in Derghe, eastern Tibet, in 1938. As a child he was recognized as the reincarnation of the great Dzogchen Master Adzom Drugpa (1842-1924) and later by the sixteenth Karmapa as a reincarnation of Shabdrung Ngawang Namgyal (1594-1651), the first Dharmaraja of Bhutan. In 1960, following the deterioration of the social and political situation in Tibet, he moved to Italy where he worked at the ISMEO (Institute for the Middle and Extreme Orient) in Rome and later on, from 1962 to 1992, he taught Tibetan and Mongolian language and literature at the Istituto Universitario Orientale in Naples. His academic works reveal a profound knowledge of Tibetan culture and a steadfast determination to keep the extraordinary cultural heritage of Tibet alive and fully accessible.
In the mid-seventies Chögyal Namkhai Norbu started giving Dzogchen teachings, encountering a growing interest first in Italy and then throughout the West. In 1981 he founded the first centre of the Dzogchen Community in Arcidosso, Tuscany. Over the years thousands of people from all over the world have become members of the Dzogchen Community. Centres have been created in the United States, in various parts of Europe, in Latin America, in Russia and in Australia.  He authorized Lama Tsultrim as his first western teacher in the late 1980's. She received numerous practices from him including: Chod, Zhitro, Simhamukha, Dzogchen, Semde, Longde, Nen ngag de, and Mandarava and maintained a close relationship with him. He has traveled to teach at Tara Mandala on multiple occasions.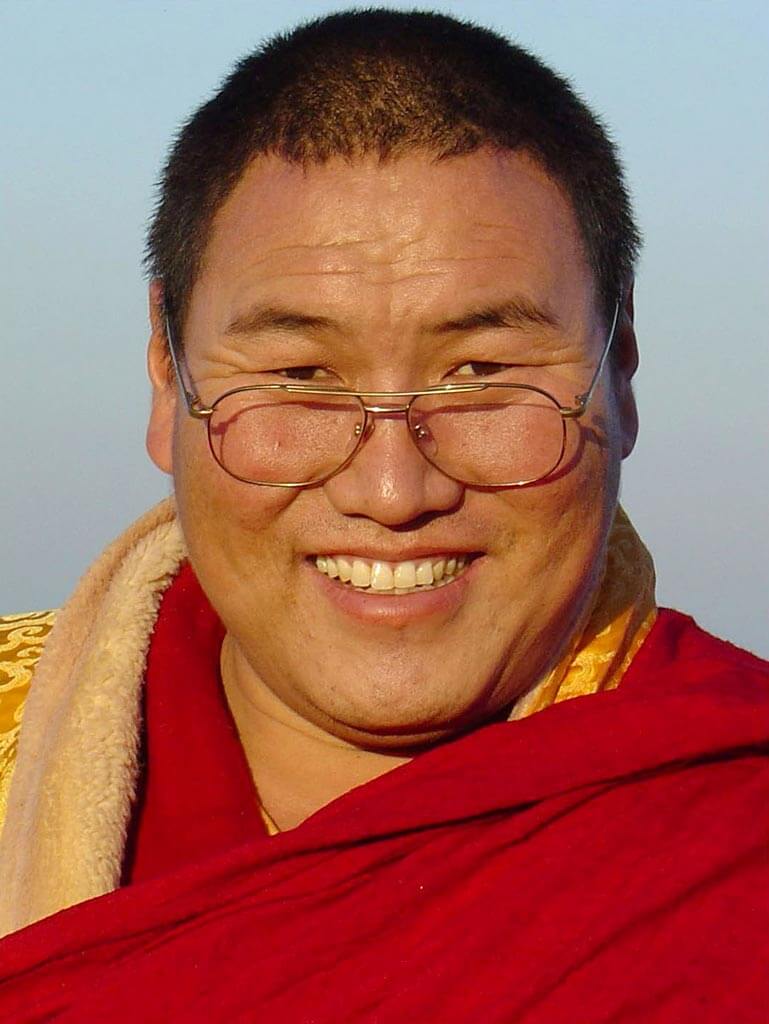 A.dzom Paylo Rinpoche
Born in 1971 near Chamdo in Eastern Tibet, A.dzom Paylo Rinpoche is a living siddha widely seen as the one of the very greatest Dzogchen masters in Tibet today.  He is also recognized as a reincarnation of King Trisong Detson, Vimalamitra, Jigme Lingpa, and Ngari Panchen. An extraordinary prodigy from a young age, A.dzom Paylo Rinpoche began his studies at the age of 5 and undertook full-time retreat at 11. At his teacher's request, Rinpoche began teaching Dzogchen in 1984 when he was 13. A.dzom Rinpoche is famous for his one-on-one Dzogchen instruction and his powerful energetic transmissions.  Today he teaches regularly at his monastery and throughout Tibet and China on texts and practices from the major liturgical traditions within the Nyingma lineage, especially The Essence of the Vast Expanse (Longchen Nyingtig).  He visited Tara Mandara several times and transmitted Tri Yeshe Lama, Zhitro, Troma, Powa, and the Green Tara practices to Lama and a small group of practitioners.  
Tulku Sang-ngag Rinpoche
Gochen Tulku Sang-ngag Rinpoche (1952 -)is the founder and spiritual director of Ewam International Centers around the world. Born into one of the oldest families in Tibet, which eventually came to be known under the name Namchak, or "sky iron," in an area called Chamdo in the Kham region of Tibet in 1952, Rinpoche was recognized in early childhood by the great rimé lama [representing all traditions of Tibetan Buddhism], Jamyang Khyentse Chökyi Lodrö [1893-1959], as well as by the former Zigar Kongtrul Rinpoche, to be the reincarnation of the Gochen Tulku. He is an outstanding meditation master and scholar and a lineage holder of the Namchak lineage and other profound and widely practiced lineages of Tibetan Buddhism. He is also widely regarded as a master stupa builder and help to guide the building of the stupa dedicated to Nyala Padma Duddul and the Tara Temple at Tara Mandala.  His primary residence is in Santa Fe, New Mexico where he established a retreat and practice center, Pema Khandro Ling. He has established Turquoise Leaf, a practice center for Tibetan nuns in Nepal and the Garden of One Thousand Buddhas in Montana.  Lama Tsultrim received the Dzinpa Rangdrol cycle, Dudjom Rinpoche Mountain Retreats and the Dechen Lama from him.
Lama Tsering Wangdu Rinpoche
Lama Tsering Wangdu Rinpoche (1935 -)is a lineage holder of the Longchen Nyingthig, Shije, and Chod traditions.  Born in 1935 in Tingri Langkor, Tibet, he received transmission and training from his root Lama, Naptra Rinpoche, and completed the traditional 108 charnel ground Chod pilgrimage before he was twenty. Naptra Rinpoche sent Lama Wangdu to Nepal on pilgrimage shortly before the Chinese closed the border in 1959. A well-trained and experienced yogi, he has lived in Nepal ever since, spending much of his life in retreat and serving the Tibetan refugee community. He spends part of each year in Portland, Oregon, USA teaching and leading retreats and the rest of the year training monastics at Pal Gyi Ling in Nepal.  Lama Tsultrim first met and studied with Lama Wangdu in 1974 and has received the Rinchen Trengwa Dentog Chigma practice from him. He was the first Rinpoche to recognize her as an emanation of Machig Labdron.
Lama Wangdor Rinpoche
Wangdor Rimpoche is a Tibetan Buddhist has spent more more than 30 years meditating in the caves first used by the Tibetan saint, Padmasambava, above Lotus Lake (Tsol Pema) in the Himachal Pradesh region of Northern India. In solitary retreat during the early years, he was eventually joined over time by more than 50 cave-dwelling yogis and yoginis who look to him for guidance and support. Beginning in the 1970s, he constructed a monastery near the lake as well as a retreat center on the mountain, available to practitioners of all lineages and nationalities, projects which have taken nearly 20 years to complete. Wangdor Rimpoche holds both Nyingma and Kagyu Dzogchen/Chagchen lineages and is considered a Remay (ecclectic) teacher. He teaches from heart texts on Dzogchen, the maha-ati and mahamudra yogas which he has received in lineage from Nambla Janchub Dorje, Kunu Rimpoche and Scholars Chonchok Sumon Khenpo of Trungpa Rimpoche's line; Tucksie Rimpoche and Pumdong Key Rimpoche.  Lama Tsultrim has received Tri Yeshe Lama and Trekcho teachings from him.
Tsoknyi Rinpoche
Tsoknyi Rinpoche or Ngawang Tsoknyi Gyatso, (1966 – ) founder of the Pundarika Foundation, was born in 1966 and recognized as a tulku at the age of eight. When he was thirteen he was brought to Khampagar Monastery at Tashi Jong in India, the seat of Khamtrul Rinpoche. His teachers include some of the most renowned masters of Tibet: Khamtrul Rinpoche Dongyu Nyima, his father Tulku Urgyen Rinpoche, Dilgo Khyentse Rinpoche, Nyoshul Khen Rinpoche and Adeu Rinpoche. Rinpoche is the spiritual head of two nunneries in Nepal, as well as one of the largest nunneries in Tibet. He also heads 50+ practice centers and hermitages with over 2,000 nuns and 900 monks that practice the Tsoknyi and Ratna Lingpa Lineages in the eastern region of Tibet (Nangchen). Yeshe Rangsal in Crestone, Colorado, is his seat in the West.  Tsoknyi Rinpoche has taught at Tara Mandala and transmitted the Trekcho practice to Lama Tsultrim.
Lama Pema Dorje Rinpoche
Lama Pema Dorje Rinpoche (b. 1942 – 2018) was born into a yogi family named Jova, whose ancestors can be traced back to Milarepa's paternal line. His father, Kathok Rigdzin Dorje Rinpoche, was a disciple of Taklung Gangshar Rinpoche and Taklung Chodung Rinpoche. From these two teachers, Rinpoche received the entire Longchen Nyingtik teachings, as well as the Machik Labdrön chö teachings. When he was twenty, he went to Mount Kailash for an extended retreat. After that he met Golok Serta Rinpoche, a lineage holder of the first Dudjom Lingpa's treasure teachings, from whom he received the main Tröma Nakmo practice and became a follower of the Dudjom Tersar lineage. He was also a student of H.H. Dudjom Rinpoche and a lineage holder of Dudjom Lingpa and H.H. Dudjom Rinpoche. He also studied with H.H. Dilgo Khyentse Rinpoche, H.E. Chagdud Rinpoche, Lama Kunzang Dorje Rinpoche, and many other teachers.  Lama Pema taught the White Tara and Tibetan Yoga for Longevity practices yearly at Tara Mandala until his passing in 2018.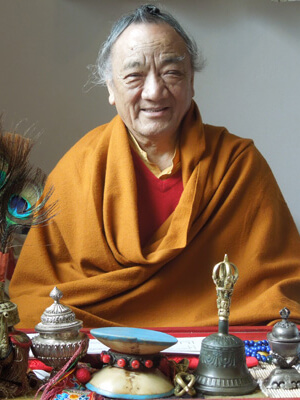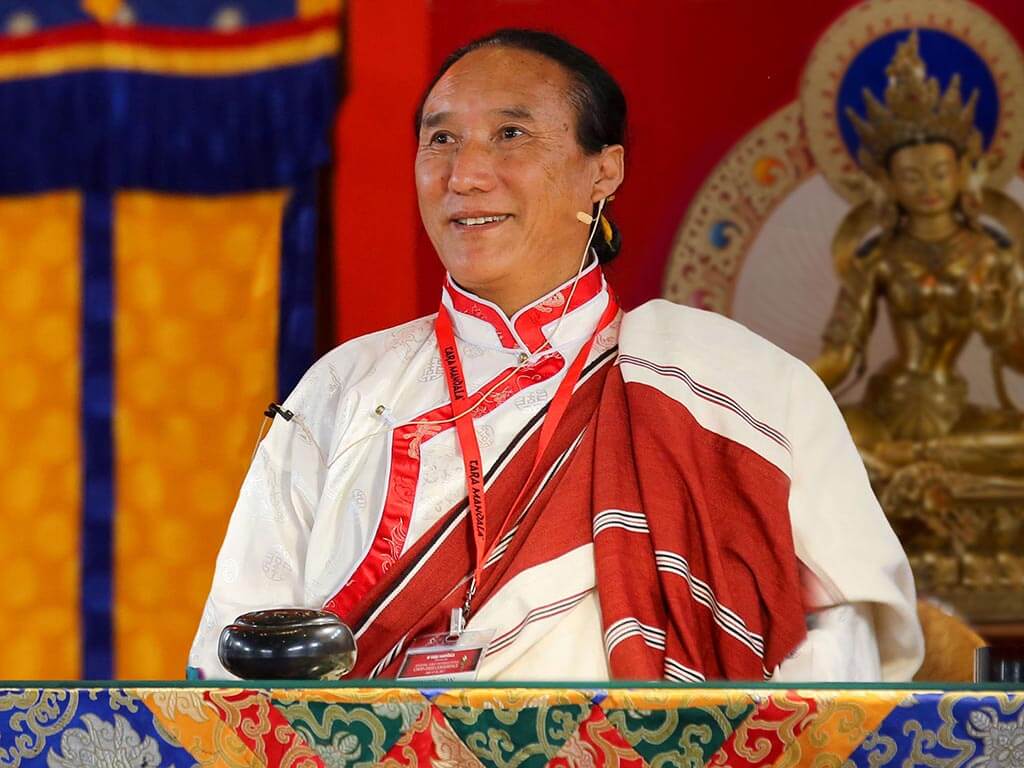 Drupon Lama Karma
Venerable retreat master (drubpön) Lama Karma (1954 -) was born in eastern Bhutan and joined the Long-Nying Chöling Monastery at a young age. His root teacher was Lama Naljorpa, the great yogi of mahamudra and Dzogchen, from whom he received numerous vows, empowerments, instructions and oral transmissions, including the Chöd Rinchen Trengwa and the Chöd practice of Laughter of the Dakinis from the Longchen Nyingtik Tradition. A heart student of Terton Pedgyal Lingpa Rinpoche, he served as the scribe for the entirety of Pedgyal Lingpa's Kusum Gongdü treasure cycle. Drubpön Lama Karma studied with other great teachers, including H.H. Dodrupchen Rinpoche, H.H. Penor Rinpoche, H.H. Taklung Tsetrul Rinpoche, H.H Dilgo Khyentse Rinpoche, H.H. Dudjom Rinpoche, and the 16th and 17th Karmapas. He has spent over 16 years in strict meditation retreats. Drubpön is renowned as a genuine retreat master throughout Bhutan and has been one of the most important Bhutanese lamas to disseminate the teachings and maintain the tradition of Terton Pedgyal Lingpa.  He is the resident Lama at Tara Mandala where he has taught the Chod Rinchen Trengwa and the Queen of Great Bliss Wisdom Dakini & Twenty-One Taras sadhanas.