Tara Mandala is governed by a Board of Trustees in collaboration with the Executive Council.
The Tara Mandala Board of Trustees:
Officers:
President  – Pieter Oosthuizen
Vice President – Vacant
Treasurer – Anna Raithel
Secretary – Celeste Young
Board Members:
Lama Tsultrim Allione, Chandra Easton, Michele Nevarez, and Tulku Ösel Dorje
Lama Tsultrim Allione, M.A. was one of the first American women to be ordained as a Tibetan Buddhist nun. She was ordained as a getsulma in 1970 by the 16th Karmapa. After four years as a nun studying Tibetan, practicing Buddhism and living in the Himalayas, Lama Tsultrim returned her monastic vows, married, and raised a family of three. She earned a M.A. degree in Buddhist Studies /Women's Studies from Antioch University. She is the author of Women of Wisdom, a groundbreaking book on the lives of great Tibetan women practitioners. Her National Bestseller, Feeding Your Demons: Ancient Wisdom for Resolving Inner Conflict, (2008, Little, Brown & Co), connects the ancient principles of Buddhism with the modern psyche, based on the teachings of the eleventh century Tibetan yogini Machig Labdrön. A panel of distinguished Buddhist scholars and practitioners from the Association for the Promotion for the Status of Women in Bangkok, Thailand selected Lama Tsultrim Allione as a recipient of the 2009 Award for Outstanding Women in Buddhism. 
She founded Tara Mandala in 1993, a 700‑acre retreat center where a large three‑story mandala temple dedicated to the female Buddha of compassion, Tara, has recently been constructed. Tara Mandala offers a wide a variety of programs with a special focus on the lineage of Machig Labdrön.
Dorje Lopön Chandra Easton, Buddhist teacher and translator, studied Buddhism and Tibetan language at the Library of Tibetan Works & Archives in Dharamsala, India, founded by H.H. Dalai Lama. She later received her degree from UCSB's religious studies department at which time she co-translated Sublime Dharma, A Compilation of Two Texts on the Great Perfection, published by Vimala Publishing, 2012. From the very beginning of her Buddhist studies, Lopön Chandra recognized the profound need to bring forth the voice of the sacred feminine in Buddhist theory and practice. Due to this, in 1999 during her first pregnancy, she met and then later began to study with Lama Tsultrim Allione, pioneering female Buddhist teacher, national best selling author, and founder of Tara Mandala Retreat Center.
Lopön Chandra is the Assistant Spiritual Director and Lead Senior teacher at Tara Mandala Retreat Center. She serves on the Tara Mandala Board of Trustees, develops programs and curricula for Tara Mandala, as well as teaches nationally and internationally. In September of 2015, during the final day of the White Dakini Drubchen, Lopön Chandra was enthroned as the Dorje Lopön (Vajra Teacher) of Tara Mandala under Lama Tsultrim Allione and given the name Lopön Yeshe Dawa Zangmo by H.E. Gochen Tulku Sang-ngag Rinpoche who presided over the ceremony with Lama Tsultrim. Lopön Chandra has had the good fortune to study with many Tibetan and Western Buddhist teachers such as H.H. Dalai Lama, H.H. Karmapa, Lama Tsultrim Allione, Tulku Sang-ngag Rinpoche, Jennifer Welwood, B. Alan Wallace, Gyatrul Rinpoche, Adzom Paylo Rinpoche, and Lama Pema Dorje. Lopön Chandra is currently on the Tara Mandala Bay Area coordinating committee, through which she teaches and organizes events in the San Francisco Bay Area. She is currently living in Durango, Colorado, with her family.
Pieter Oosthuizen is a teacher and entrepreneur and a long-time student of Tibetan Buddhism. He has been teaching various practices and retreats in Lama Tsultrim's lineage in the US and abroad since 2006, offering a blend of incisive insight and genuine compassion. He co-leads the Boulder Tara Mandala Sangha with Lopön Charlotte Rotterdam, and serves as the President of the Tara Mandala Board. In addition to Lama Tsultrim Allione, Pieter studied with Namkhai Norbu Rinpoche, Lama Tharchin Rinpoche, Adzom Paylo Rinpoche, and others. In the past, Pieter has brought innovative leadership to institutions such as Naropa University, where he served as Assistant VP for Academic Affairs, and Tara Mandala, where he served as Executive Co-director and Board Member. His years of leadership have been dedicated to creating healthy, creative, and effective organizations built on cultures of openness and authenticity. He is the founder and current CEO of Celsus Bio-Intelligence, a skin care company. Pieter received his Law degree in his native South Africa.
Anna Raithel completed her B.A. in Religion and then lived at Tara Mandala for six years, working as Lama Tsultrim's Executive Assistant and the Temple Manager. She studied Tibetan language and gyaling, coordinated the annual Drubchens, and was the lead umdze (chant leader) and chöpön (ritual arts leader). She recently finished her M.B.A. with a focus in Sustainable Development. She now lives and works in Portland, Oregon, as a strategy & leadership consultant.
Michele Nevarez is the Founder, CEO, and Chief Education Officer for Beyond EI. Michele's vision is to democratize Emotional Intelligence as a means of igniting personal and global agency. This driving force is at the core of how the programs she has designed translate EI from theory to a powerful and practical vehicle for meaningful transformation and lasting habit change. It isn't enough to leave our insights of Emotional Intelligence at the level of theory. We must operationalize EI in a manner that we come to know first-hand what it means to embody the wisdom of EI in our own lives. She is also the published author of Beyond Emotional Intelligence: A Guide to Accessing Your Full Potential.
Michele brings 25+ years of executive leadership experience working for industry leaders in healthcare, investment management, management consulting, and manufacturing. A founding member of Rangjung Yeshe Institute based in Kathmandu, Nepal, Michele has been studying Tibetan Buddhist philosophy and practicing the wisdom at the core of its contemplative meditation practices for 29 years.
Michele received her B.A. in Religion from Bryn Mawr College and Master of Science degree in Positive Organizational Development and Change from the Weatherhead School of Management, Case Western Reserve University.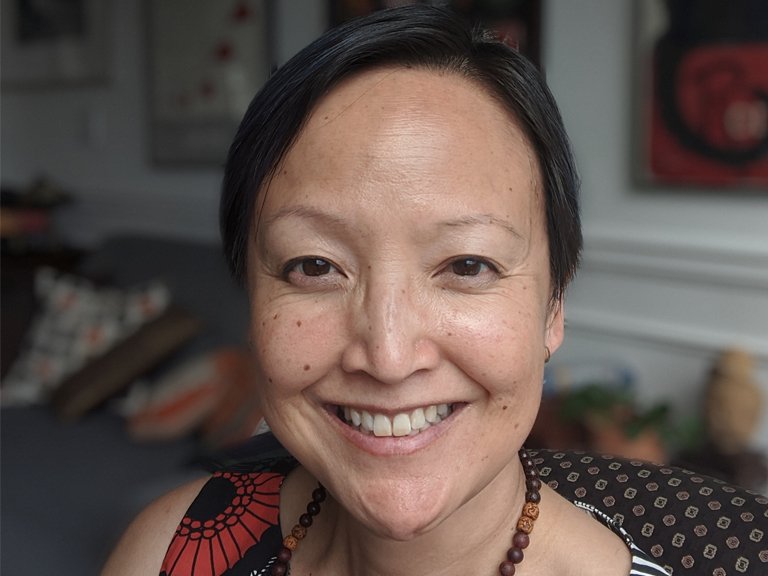 Celeste Young has been bringing people together in collective effort for over 25 years. Specializing in distributed projects, she uses her sharp mind and compassionate heart to unite global teams in building plans and tools that help others achieve their dreams. Celeste earned a B.A. in Anthropology from Harvard University. Her career in software development has spanned encyclopedias, staffing, Salesforce, startups, global marketing and technology, and customer experience strategy. Celeste first came to Tara Mandala in 2017 and immediately joined the Magyu program. She also serves on the Mandala Committee for the Northern Sierra Sangha, which offers many practices and dharma book clubs online. Based in Seattle, Celeste leads teams around the world to bring ideas to life and clarity to chaos.
From his own personal retreat practice, Ösel Dorje has gained a strong appreciation for the importance of developing a deep understanding of the philosophical side of Buddhist study, while bringing it to life through meditation experience.  Inspired by stories of realized masters of the past, Ösel Dorje has spent time traveling throughout the Himalayas meditating in the sacred caves and power places of Guru Rinpoche. He has done 4 years of strict retreat, completed five ngöndros (the foundational practices) and the traditional Lama, Yidam and Khandro practices from the Longchen Nyingtig and Ösel Dorje Sangdzod terma cycles. As a wandering yogi, he completed a traditional 108 charnel ground chöd pilgrimage in Ladakh. Throughout his retreats he has been guided by his root teachers Adzom Paylo Rinpoche, Sang-ngag Rinpoche, and his mother Lama Tsultrim Allione. He is enthusiastic about Buddhist Philosophy, Tibetan Buddhist history, and biographies of realized yogis and yoginis. He holds a Master's degree in Buddhist Studies from Kathmandu University and is currently working on a PhD. Ösel Dorje was enthroned as the Dorje Gyaltsab (Vajra Regent) of Tara Mandala in 2019.