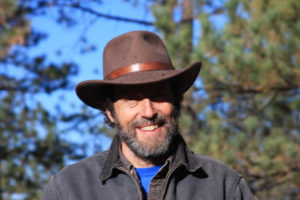 Frank graduated with a degree in Zoology and later received a doctorate in Holistic Health. He is also a Hakomi (body centered psychotherapy) graduate, trained by instructors from the Naropa Institute.
He has done a number of wilderness solo vision quests ranging from two weeks to three months beginning in 1975. He has trained with Tom Brown Jr. and taught at boy's summer camps and organized and lead wilderness retreats. He has taught mindfulness and meditation retreats at most major cities around the U.S. and Canada.
His greatest aspiration has always been to share inner personal wilderness experience as well as the ways he has learned for dealing with internal conflict  with others and to share an early childhood vision. That vision, at the age of 18, could be summarized as "return to the wilderness for guidance, direction, and help when in doubt".
He is currently in private practice and developing a retreat center on the borders of Tara Mandala where he has worked with ADHD children and adults. Additionally, he is working to develop hiking and wilderness programs for disabled vets.