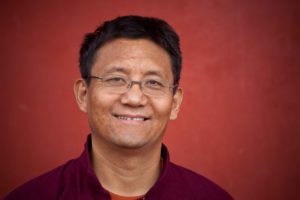 Master painter and craftsman Lama Gyurme was born in Dranang, Tibet in 1969. His family sent him to the Mindroling monastery upon the invitation of the head monk to study painting and traditional arts when he was 15. Lama Gyurme's first teacher was from Kham (Guangzhou) located in Eastern Tibet. After initial study, he went to live with his principal teacher Lama Tsekyab in order to fully absorb the rich tradition of Tibetan painting, of which his teacher was master. The famous paintings of Korkyim Monastery were created by his teacher, during the period when Tibetans were once again allowed to worship and rebuild their temples and monasteries.
While still young Lama Gyurme became an adept in Tibetan rituals and monastery traditions. He became manager and rule keeper of the monastery and led chants at Mindroling until 1998. He painted or assisted in the restoration of hundreds of the temple paintings.
In 1998 he was invited to teach painting at the Shanshung Institute in Italy, one of the most important Tibetan Buddhist centers outside of Tibet. He spent the next two years teaching Westerners traditional Tibetan art and sculpture. During his tenure at the Institute he studied Italian and English and wrote an important history of Tibetan Art in Tibetan.
Events with Lama Gyurme Rabgye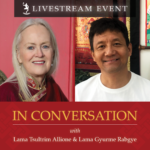 In Conversation Livestream
April 22, 2021
Join Lama Tsultrim Allione and Lama Gyurme Rabgye for a livestream conversation. During this event, Lama Tsultrim will interview Lama Gyurme about the teachings on the Nagas. The Nagas are water spirits that influence the elements and other phenomena. They are strong energies that are often mentioned in Buddhist texts.…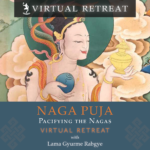 Naga Puja: Pacifying the Nagas - VIRTUAL RETREAT
May 2, 2021
Master artist and teacher Lama Gyurme is delighted to introduce the art of torma making and the offering practice for the Nagas.  The Naga Puja is mainly practiced to appease Nagas that may have been offended or injured by human activity, or to please Nagas that are active in areas…