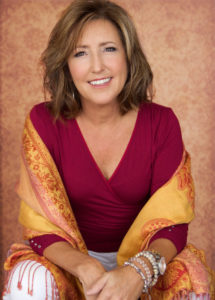 "My sincerest wish in our time together is that we quiet our worldly distractions and feel safely connected and encouraged to welcome all thoughts and feelings so that our loving awareness naturally recognizes and rests in its own wholeness, peace and purpose." – Rhonda LoPresti
Rhonda believes that when we embrace life's impermanence with compassion, it allows us more precious moments. Transitions, when difficult, invite us to work with our emotions, attachments and aversions. By staying open, curious and courageous they provide a journey to our deepest healing and awakening.  Dying, just as our daily living, is spiritual practice.
Passionate in serving the dying and grieving, Rhonda favors conversations in the art of saying good-bye, how to prepare oneself consciously for the dying process, restoring death ritual in our culture, and knowing our options in family directed in-home vigils and funerals and green burial choices.
Founder and visionary of Peacefully Prepared, one aspect of her coaching service inspires clients to organize their end of life affairs and wishes in a Spiritual Care Directive, as well as a holistic Passing Plan. Rhonda sees the creation of these instructions as an act of spiritual practice in preparing for end of life and an act of kindness to ease the grief and stress of our loved ones.
Rhonda earned a BA in Psychology from Scripps College. In the past, she owned and directed Holistixs of San Diego healing arts center for 22 years, fulfilled an HHP program from BodyMind College, became a certified Life Coach, NLP Practitioner and Hypnotherapist from Bennett-Stellar University and completed Coaching at End of Life (CEOL), Bearing Witness to Self.   Rhonda is currently a PCC candidate for the International Coaching Federation.
Rhonda has been under the spiritual direction of Chokyi Nyima Rinpoche for over 30 years.  She serves as a Board Member and the Giving Manager for Rangjung Yeshe Gomde California (RYG CA), a Tibetan Buddhist Retreat Center, where she is currently developing a dying and death program for its community of practitioners.
In her own life, Rhonda has had the sacred privilege of witnessing her own family members through the dying process, including her mother and father, as well as grandparents, dear friends and clients. This past August, she created a 3 day family directed in-home funeral for her father and shares that story as in inspiration for others.
A native resident of San Diego, California, she lives life to the fullest with her husband and two teenage children.