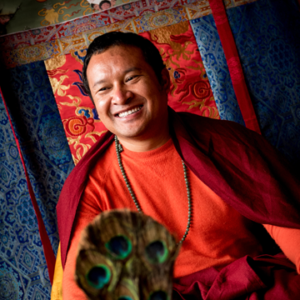 H.E. Chung Tulku Rinpoche comes from an unusual yak-herding family with 7 sons, 5 of which have been recognized as tulkus. He is the third son, and second tulku of the family. He was born in Bhamarpo in Bhutan, very close to the sacred three-peaked mountain of Gangkharpunsum, which represents Manjushri, Avalokiteshvari, and Vajrapani. At the time of his birth, many miraculous displays were evident, such as his house being surrounded by rainbows, the nearby black river Dhur turning milky white, and his umbilical cord covering him in the shape of a vajra.
When he was six years old, Dilgo Khyentse Rinpoche recognized his older brother Adzom Gyalse as a tulku and also took him along. Dilgo Khyentse Rinpoche announced that the young boy would himself announce who his previous incarnation was in a week. In that time frame, he was able to recognize the personal items of his previous incarnation. He then was ordained as a monk by Dilgo Khyentse Rinpoche and studied at Shechen monastery in Nepal for 5 years. He was enthroned as the 3rd mind reincarnation of Trulzhik Do Ngak Lingpa by HH Penor Rinpoche at Bodh Gaya, India during the Nyingma Monlam when he was 14. He then studied at Namdroling Institute in Mysore, South India, where he topped his class and received his Geshe degree. 
He was the chief abbot of Tharpaling monastery in Bumthang, Bhutan, the seat of Kunkhen Longchenpa, where Longchenpa composed The Seven Treasuries. The Longchen Nyingthig, or Vast Expanse of the Heart Essence, is the most famous Nyingma practice that lays the path for a practitioner from ngöndro, or foundational practices, to Dzogchen, or the teachings on the Great Perfection. It has been H.E. Chung Tulku Rinpoche's mission to preserve the Longchen Nyingthig teachings and practices in this modern age.
H.E. Chung Tulku Rinpoche is the founder of Dhyana, a non-profit organization in Bhutan,  which aims to bring the practice of meditation to people from all walks of life, in order to relieve depression, anxiety, and other modern day afflictions. He has been teaching all over the world in Poland, Hungary, Croatia, Germany, Australia, and the U.S. in order to benefit sentient beings. More information about Dhyana can be found at www.dhyanazhitshok.org.