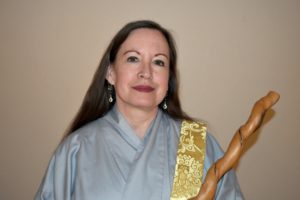 Venerable Dr. Myodo Jabo is a Buddhist Priest and Zen Master in the Five Mountain Zen Order. A meditator since 1998, she has been teaching the Buddhadharma and meditation since 2008 and was ordained as a Priest in 2013. She founded Single Flower Zen Center in Claremont, California in 2014. Roshi Myodo is currently the Guiding Teacher of three Zen Centers in Southern California.
She came to the dharma during a divorce and decided to stay. Fortunately, as she tells it, she had been meditating for 14 years when she was diagnosed with breast cancer. A student of Lama Tsultrim's, Roshi Myodo practiced "Feeding Your Demons" while hospitalized. Once home, she'd ask her husband to prop her up on pillows so she could see out the window for Prajna Paramita practice. 
In addition to being of student of both Zen and Vajrayana Buddhism, Roshi Myodo has studied Theravada Buddhism in the U.K. and Shingon Buddhism in Japan. She holds a degree in Psychology from the University of Texas at the Permian Basin, and a law degree from Western State University College of Law. She has taught Masters' level Buddhist Studies online at Buddha Dharma University. 
For her "day job," Roshi Myodo is the owner of Open Door Yoga where she teaches meditation and leads retreats. She is also a Life Coach, emphasizing the spiritual nature of human beings. She lives with her husband and a rescued Shih-tzu named Mojeaux.