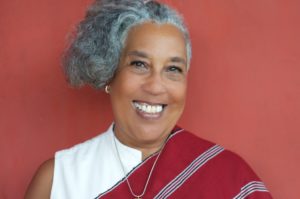 Karla Jackson-Brewer, M.S., Tara Mandala Senior Teacher, has been practicing Chöd for over three decades and has assisted Lama Tsultrim on many Chöd retreats. She has co-taught Chöd since 2013 with Lama Tsultrim and Löpon Chandra Easton. She has also taught and led Chöd Practices for the NYC Tara Mandala Sangha which she leads. In October 2012, she received the Chod Empowerment from His Holiness the 17th Karmapa, Orgyen Trinley Dorje. She leads a monthly BBAIPOC meditation practice for Tara Mandala. Karla is a founder of Sine Qua Non: Allies in Healing, an Integrative Therapy Practice in New York City. She is an adjunct Professor in the Women's & Gender Studies Department and the Africana Studies Department at Rutgers, The State University of New Jersey. Karla is an initiated priest in the West African system of Ifa.
Authorized to teach:
Feeding Your Demons®
Namkhai Norbu Chöd
Five Dakini Mandala Meditation
Five Buddhi Mandala Meditation
Sutrayana retreat
Vajrayana retreat
Email: nytmsangha@gmail.com/khadro57@gmail.com
Location: New York , New York
Events with Karla Jackson-Brewer, M.S.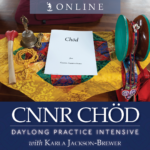 CNNR Chöd Daylong Practice Intensive - ONLINE
June 17, 2023
A Tara Mandala  Daylong Practice Intensive – ONLINE  Have you been practicing Chogyal Namkhai Norbu Rinpoche (CNNR) Chöd and are encountering some challenges?  Devoted Chöd practitioner and Authorized Teacher Karla Jackson-Brewer will offer a special opportunity for seasoned and brand new Chöd practitioners to receive support in their practice, ask…