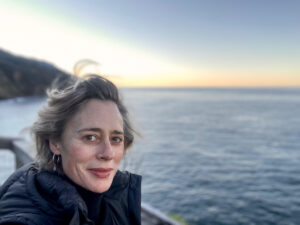 Dorje Lopön Chandra is a teacher, author, and translator of Tibetan Buddhism. She is the lead senior teacher at Tara Mandala Retreat Center, founded by Lama Tsultrim Allione. She serves on the Tara Mandala Board of Trustees, the Equity, Diversity & Inclusion Council, develops programs and curricula for Tara Mandala, as well as teaches nationally and internationally. 
In 1993, Lopön Chandra studied Buddhism and Tibetan language at the Library of Tibetan Works & Archives in Dharamsala, India, founded by H.H. Dalai Lama. She later received her degree from UCSB's religious studies department at which time she co-translated Sublime Dharma, A Compilation of Two Texts on the Great Perfection, published by Vimala Publishing, 2012. 
From the very beginning of her Buddhist studies, Lopön Chandra recognized the profound need to bring forth the voice of the empowered feminine in Buddhism. Due to this, in 1999 during her first pregnancy, she met and then later began to study with Lama Tsultrim Allione, pioneering female Buddhist teacher, national best selling author, and founder of Tara Mandala Retreat Center.
In September of 2015, during the final day of the White Dakini Drubchen, Lopön Chandra was enthroned as the Dorje Lopön (Vajra Teacher) of Tara Mandala under Lama Tsultrim Allione and given the name Lopön Yeshe Dawa Zangmo by H.E. Gochen Tulku Sang-ngag Rinpoche who presided over the ceremony with Lama Tsultrim.
Lopön Chandra has had the good fortune to study with many Tibetan and Western Buddhist teachers such as H.H. Dalai Lama, H.H. Karmapa, Lama Tsultrim Allione, Tulku Sang-ngag Rinpoche, Jennifer Welwood, B. Alan Wallace, Gyatrul Rinpoche, A.dzom Paylo Rinpoche, and Lama Pema Dorje. She is currently writing a book on the Twenty-one Taras to be published by Shambhala Publishing. She teaches weekly classes at the San Francisco Dharma Collective and advises the Tara Mandala Bay Area Mandala Committee, through which she teaches and organizes events in the San Francisco Bay Area. To learn more, visit www.chandraeaston.com.
Authorized to teach:
Twenty-one Taras
Dzinpa Rangdröl Ngöndro
Feeding Your Demons®
Five Buddha Mandala Practice
Five Dakini Mandala Practice
Five Yab/Yum Mandala Practice
Kapala Training Level I
Lojong (Mind Training)
Namkhai Norbu Chöd
Parchangma Chöd
Prajña Paramita Meditation Practice
Shamatha (Calm Abiding Meditation)
Study of Jigme Lingpa's Treasury of Precious Qualities
Three Yanas: Mahayana Retreat
Three Yanas: Sutrayana Retreat
Three Yanas: Vajrayana Retreat
Vipashyana (Insight Meditation)
Wisdom Rising Mandala Training Program
Email: chandra@taramandala.org 
Website: www.chandraeaston.com
Location:
Tara Mandala, Colorado
Durango, Colorado
Events with Dorje Lopön Chandra Easton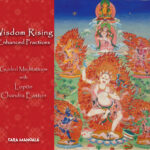 Wisdom Rising Enhanced Practices – MP3 (Digital Download)
Open Dates
This includes 10 guided meditations, as taught in the Wisdom Rising book, and led by Lopön Chandra Easton: Integration with the Elements (5 meditations – one for each family) Unblocking the Encumbered Energy (5 meditations – one for each family) Total Audio Length = 70 min Click Here for Our…