Prayer Requests & Sponsorships
Prayer Requests
Each day at Tara Mandala we engage in dharma practice and prayers as a community.  Prayer requests are read aloud and honored at the daily community practice session. We meditate and send blessings to anyone who has requested prayers. You can join us in the interdependent connection by making your prayer request on behalf of yourself, a loved one, or world situation.
Butterlamp Sponsorship
Offering butterlamps dates back to the historical Buddha Shakyamuni and is also deeply ingrained in the Tibetan tradition. These offerings of light can be made for any virtuous reason, including starting a new venture, to celebrate a birthday or special occasion, to offer prayers for a loved one or world situation, to make an offering to a temple or statue, or to increase the positive energy of any action. The dedications of butterlamps will be read at the weekly practice of Tsog (ritual feast) at Tara Mandala Retreat Center.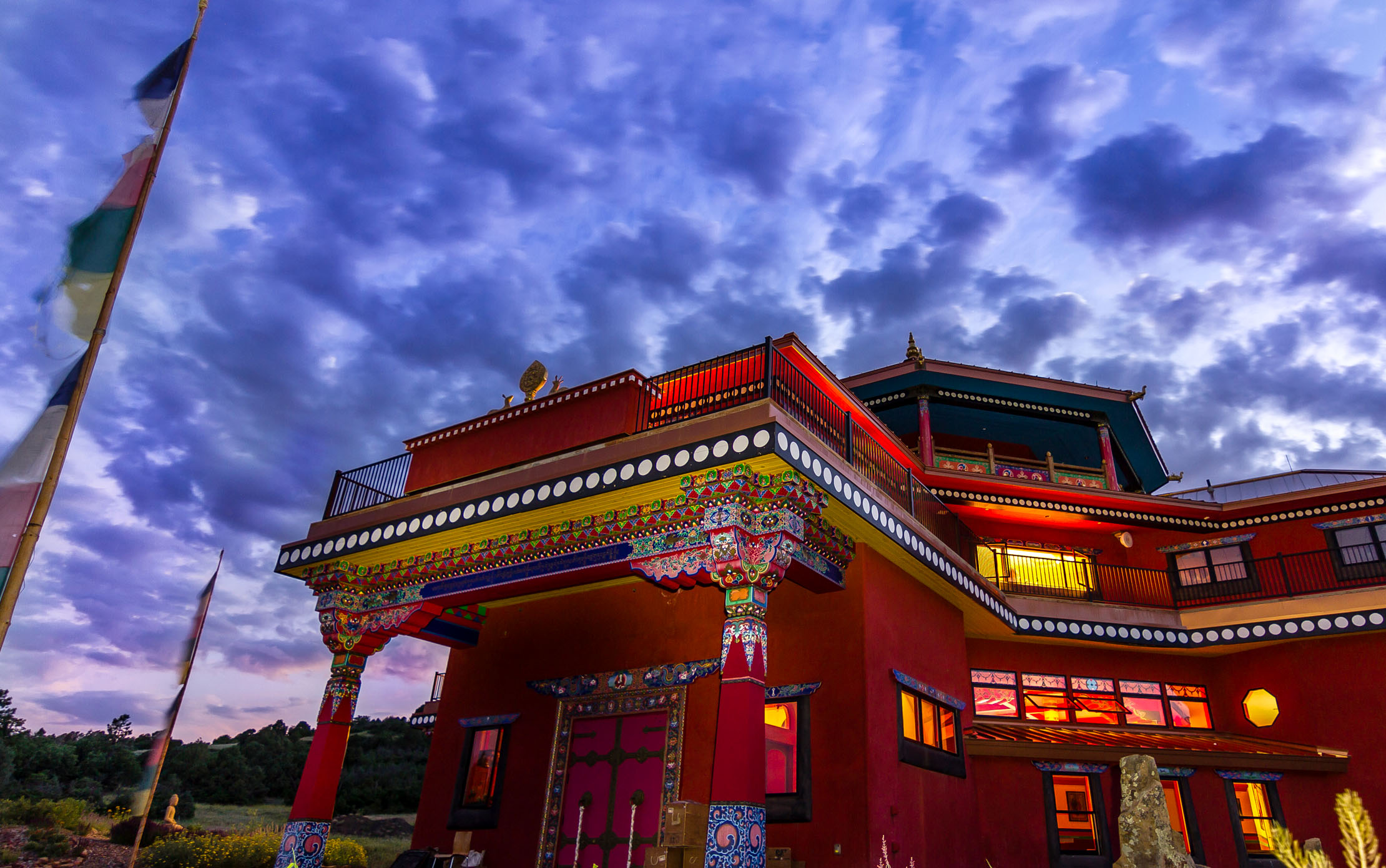 Zhitro, Practice for the Deceased
Zhitro is a Tibetan Buddhist practice done for those who have passed away. It is traditionally done the forty-nine days after someone's passings. The practice is a powerful method of supporting deceased loved ones in their journey. In the practice, blessings are sent to the deceased as purification and assistance in the process of passing on and the merit generated can aid in a fortunate rebirth.  The blessings and purification integral to the Zhitro practice can be of immeasurable benefit to the deceased.
The Practice of Zhitro is done daily at Tara Mandala Retreat Center. We offer the opportunity to sponsor Zhitro Practice in honor of a loved one who has passed away for 49 days from the date of their passing.
Ösel Nyingtig Thangka Print and Gau
During the New Year's Eve Gala, Lama Tsultrim and Tara Mandala shared the intricate and beautiful Yeshe Tsogyal thangka hand painted by master artist Lama Gyurme Rabgye. This fine reprint is done by Giclée reproduction and is available in two sizes. 
The Ösel Nyingtig gau is a sterling silver locket that contains the printed scroll of the Ösel Nyingtig Tröma terma  Practice for Accomplishing Tröma known as Secret Primordial Wisdom  revealed by A.dzom Rinpoche at Tara Mandala in 2002. These 'zung' rolls have been purified with saffron water and carefully rolled up and sealed with red paint and  sit inside the gau with OM MANI PADME HUNG inscribed in Tibetan calligraphy on the outside.  According to A.dzom Rinpoche the text itself has immense blessing power and wearing it is a protection.
These items are considered restricted to those who are currently practicing the Dakini Ngondro and/or a part of the Ösel Nyingtig cycle of teachings. 
Yeshe Tsogyal Thangka Print (small) >>
Yeshe Tsogyal Thangka Print (large) >>
Tsog Sponsorship
Tsog is a ritual feast that is performed as part of a meditation practice or puja. Tsog is an important Tibetan Buddhist (Vajrayana) practice of offering and purification that is traditionally practiced on the 10th and 25th days of the Tibetan month. The Sanskrit word for tsog practice is ganachakra, which in Tibetan is tsog kyi khorlo. The word tsog means 'an accumulation' or 'a gathering', 'an assembly or group', and the word khorlo literally means 'wheel.' So the literal translation is something like 'wheel of accumulation.'
"Practices on the path to Buddhahood are methods for gathering the accumulations of merit and wisdom and for purifying our obscurations. These two processes of accumulation and purification go hand in hand; as we accumulate more merit and wisdom, our obscurations automatically diminish"
– Rigpa Wiki
Both of these aims are achieved in the practice of tsog which makes it one of the most important activities for a Vajrayana practitioner.
At Tara Mandala, we gather as a community to offer tsog four times a month. The community alternates between Green Tara, Tsogyel Karmo (White Dakini), and Namkhai Norbu Chöd and Parchangma Chöd tsog practices. It is possible to become a sponsor of a tsog with an offering of $25, $100, $500, $1000 or more. You can offer in honor of a beloved, the deceased, a special occasion, long life aspirations, a world cause, for the auspicious beginning to new endeavor or celebrating a significant completion, or you can also simply offer to sponsor a tsog. Your name will be announced along with your dedication during the tsog practice.
Tara Flower Sponsorships
Make a connection with the 21 Taras by donating beautiful fresh flowers in our temple. We invite you to cultivate merit through offerings rich with the sensual qualities of texture, color, fragrance, and softness that flowers invoke.
Flower sponsorships can be made in someone's name, accompanied with a prayer request dedicated to a loved one, for a special event, or anything that resonates strongly in your heart. Your offering will weave positive aspirations  imbued with the blessings of Tara, and radiate outward in the world.
Employer Match
Many employers sponsor annual giving programs and will match any charitable contributions or volunteer hours made by their employees. Ask your employer if they participate. If your company is eligible, request a matching gift form from your employer, and send it completed and signed with your gift. We will do the rest. Some companies match gifts made by retirees and/or spouses.
Contact Us For More Information
Donating Appreciated Securities
Appreciated securities are any mutual funds, stocks, or bonds which have increased in value since you purchased them. When you sell appreciated securities, you owe capital gains tax. If you donate them to Tara Mandala, you can take their full current value as a tax deduction, and pay no capital gains tax. Tara Mandala can hold them or sell them for the full current value without paying tax.
Contact Us for More Information