Prana Mandala Vinyasa – Embodying the Heart of the Mandala
With Shiva Rea
September 19 - 23, 2018
Join us for a Movement Meditation Immersion
and Teacher Immersion with Shiva Rea, Live Music Artists
and special guest Demetri Velisarius(Prana Danda Yoga) 
"The Yogin unites with the Divine through a Mandala of Mudrās
as the flowing dance of embodied divinity."
– Rudra Yāmala Tantra
Embody the heart of the mandala, deepen in yoga as movement meditation, and create a collective mandala in the sacred sanctuary surrounded by the 21 Taras. Our journey will include the Fall Equinox Global Mala Movement Ritual, connecting around the world for UN International Peace Day, a mala gift and workbook.
Movement Meditations Include
Prana Mandala Vinyasa – full-spectrum sequence to embody the five elements for inner and outer vitality, fluidity, devotion and strength for the path

Prana Flow Pranams for the Great Mother Tara
Yoga Mala – Therapeutic forms for transformation
Embodied Prayer and Mantra from Buddhist and Shaiva Tantra
Prana Danda Yoga – Yoga with a staff
Highlights
Learn and experience traditional prostrations as offering to Tara Mandala, evolution of Prana Mandala Namaskars and embodied prayers as movement meditation.

Learn Solar/Lunar Prana Mandala Vinyasas integrating namaskar, creative flow of standing asanas, backbends, twists and forward bends made accessible to all levels

Learn the principles of Mandala within Yoga, Tantras and cross-culturally

Learn PranaDandaYoga choreographed to two powerful prayers from the Tibetan Buddhist tradition: Lama Tsoknyi's Meditation Instructions and "Shantideva's Daily Prayer."
Participate in the Global Mala Ritual and Celebratory Sahaja Prana Flow – free-form Movement Meditation.
About Prana Mandala Vinyasa
Prana Mandala Vinyasa is a circular flow yoga based upon the healing principles of the mandala integrating prana mandala namaskar, circular sequencing, meditation, mantra, mudra, and yoga nidra (deep relaxation). Based on 25 years of teaching, this offering is an evolution from the roots of Krishnamacharya's teachings, Bhakti and Shaiva Tantra.
About Prana Danda Yoga
Experience yoga with a five-foot staff for graceful circular movements and yoga postures to create deeper energetic alignment, stability and primal connection.
www.pranavinyasayoga.com for more info.
Instructions
Please bring a yoga mat, any props needed and hiking shoes for pilgrimage hikes.
This retreat is open to all.
Suggested Dana: $150-$200
Teacher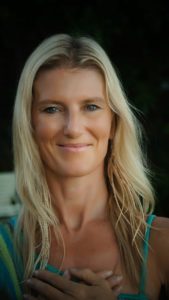 Shiva Rea
Shiva Rea bows to the master teachers, elders and grandmothers from around the world from Africa to Asia who have expanded and deepened her integration of yoga and movement meditation. With a M.A. in World Arts and Cultures, Shiva is the founder of Global School of Living Yoga, Prana Vinyasa,…
Learn more about Shiva Rea