Winter Solstice Celebration
With Lama Tsultrim Allione
December 21 - 22, 2018
Come celebrate the Winter Solstice 2018 with the Tara Mandala residents and Lama Tsultrim Allione. Let's join together to center ourselves and begin the holidays by quieting our minds, settling in our bodies, and opening our hearts to the great mystery of the turning of the sun and the darkest night. The Winter Solstice has been celebrated throughout history by many cultures and is a special time for us at Tara Mandala to set strong intentions for the upcoming year. We will mark the return of the light with an outdoor bonfire where we will release our challenges from the past year followed by a spiral candlelight circumambulation of all the levels of the Tara temple, making each step a prayer. On the top floor of our Temple we will sit in meditation and set our intentions for the new year. We will then spiral back down to  the main temple shrine room for a Green Tara Tsog, a special feast offering ceremony. Lama Tsultrim will give a brief explanation and teaching on the Tsog for those of you who are new. Participants are encouraged to bring a favorite holiday finger food for the feast.
This retreat begins with a mandatory check in from 3-3:30 pm.
Join us as we begin a new cycle on this precious planet.
A 4-wheel or All-wheel drive vehicle is absolutely necessary to access Tara Mandala in winter conditions. For anyone who would prefer not to drive home after the tsog, there are overnight accommodations available.
Must be pre-registered by Thursday, December 20.
Note: When registering for this program Event Only, Is for the evening event only. Overnight lodgings include lodging and overnight stay in lodging type you choose plus your event fee. Tsog is included in all registrations. 
Teacher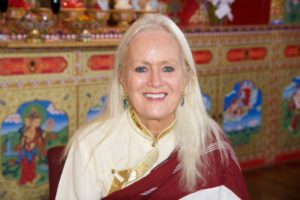 Lama Tsultrim Allione
Lama Tsultrim Allione is founder and resident lama of Tara Mandala.  She is author of Women of Wisdom and Feeding Your Demons. Born in New England to an academic/publishing family, she traveled to India in her late teens and was ordained as a Buddhist nun at the age of 22…
Learn more about Lama Tsultrim Allione