Queen of Great Bliss Wisdom Dakini & Twenty-One Taras (Drubchö)
With Lama Tsultrim Allione and Drubpön Lama Karma
April 11 - 20, 2019
The retreat will begin with an empowerment of the Queen of Great Bliss Yeshe Tsogyal Wisdom Dakini from the Longchen Nyingthig Dzogchen treasure cycle revealed by Jigme Lingpa (1729–1798). In this practice, we cultivate the ultimate primordial wisdom dakini from the perspectives of the practices of Maha, Anu, and Ati Yoga, which focus on the outer appearance of the deity, inner subtle energy and essences, and the secret nature of the mind. Thus, the entire pure universe of the hundred peaceful and wrathful Dzogchen deities arises within the primordial wisdom dakini Yeshe Tsogyal.
With this as the basis for the retreat, we will then invoke the primordial wisdom aspects of each of the twenty-one Tara goddesses, three each day, over the course of the retreat. This will culminate in a great feast celebration (Tsog), in which we will seamlessly weave together all the blessings and power of the primordial wisdom dakinis and the twenty-one Taras into one mandala, and partake in the consecrated substances of accomplishment.
The use of dharma attire is requested.
This retreat is open to all.
Suggested Dana: $400 – $500
Important Notice: If you are intending to drive and have a 2 wheel drive vehicle it is advised that you have one set of snow chains for your front tyres to access Tara Mandala for this retreat. There are parts of Burns Canyon Road USFS #649 that are likely to still be covered with ice at this time of the year. We will send you an update on road conditions closer to the time also.
Teachers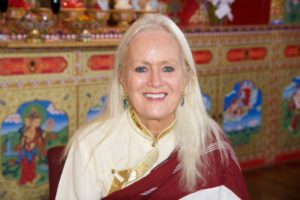 Lama Tsultrim Allione
Lama Tsultrim Allione is founder and resident lama of Tara Mandala.  She is author of Women of Wisdom and Feeding Your Demons. Born in New England to an academic/publishing family, she traveled to India in her late teens and was ordained as a Buddhist nun at the age of 22…
Learn more about Lama Tsultrim Allione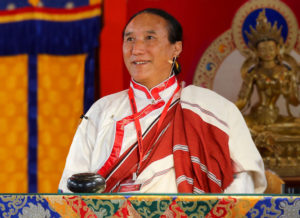 Drubpön Lama Karma
Venerable retreat master (Drubpön) Lama Karma was born in eastern Bhutan and joined the Long-Nying Chöling Monastery at a young age. His root teacher was Lama Naljorpa, the great yogi of Mahamudra and Dzogchen, from whom he received numerous vows, empowerments, instructions and oral transmissions, including the Chöd Rinchen Trengwa…
Learn more about Drubpön Lama Karma