Sacred Tibetan Art Retreat
With Lama Gyurme Rabje
May 12 - 15, 2019
Tibetan master artist Lama Gyurme Rabgye, who painted the beautiful murals in Tara Mandala's Trikaya Tara Temple, will teach the origin of Tibet's sacred art and give lessons on how to draw and paint Tibetan Thangkas as a beginner. He will demonstrate how to draw the various deities, namely Green Tara, the female Buddha of compassion as well as how to write the script for the precious Tara mantra. He will explain how to make your own thangka canvas, as well as the proper proportions for Stupas and Mandalas. Lama Gyurme will also give an overview of consecration rituals for Thangkas.
All art supplies will be provided and are included in the retreat price.
This retreat is open to all.
Suggested Dana: $160 – $200
Teacher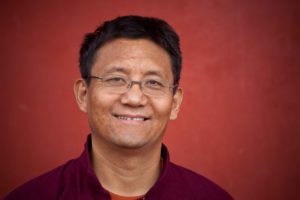 Lama Gyurme Rabje
Master painter and craftsman Lama Gyurme was born in Tanay, Tibet in 1969. His family sent him to the Mindroling monastery upon the invitation of the head monk to study painting and traditional arts when he was 15. Gyurme's first teacher was from Kham (Guangzhou) located in Eastern Tibet. After…
Learn more about Lama Gyurme Rabje