Feeding Your Demons®: Kapala Training Level IV
With Lama Tsultrim Allione
June 22 - 27, 2019
In Kapala Training Level 4, you will receive Machig's Direct Transmission from Lama Tsultrim, as well as the Movement Practice and Five Elements Practice. During the retreat there will be noble silence.
To attend this retreat, the following prerequisites must be completed:
Completion of Kapala Training Levels 1, 2, and 3

200 hours of "Opening the Gate to Space"*

Completion of Dentog Chigma* group retreat

One-month-long solo Dentog Chigma* Retreat at Tara Mandala (or another retreat center, not at home) ending with a fire puja (we will help you do fire puja)

Preferably without break (in a single period of time). Retreat may be broken up in two or four sections under special circumstances, (e.g., for a parent of a young child).

Fire puja can be completed during Kapala 4 Training

Completion of the Lion Headed Dakini Retreat (formerly the Dakini Retreat)

10 Feeding Your Demons® with dream figures with tracking forms

10 Feeding Your Demons® with demon of ego-clinging with tracking forms

10 Feeding Your Demons® with collective societal/cultural/historical demon with tracking forms

10 Extended Ally processes with the journey

200 thirty-minute sessions of the Four Immeasurables* practice (as learned in the Three Yana Retreat)
This is a required retreat for the Magyu Mother Lineage Program.
Suggested Dana: $240 – $300
Teacher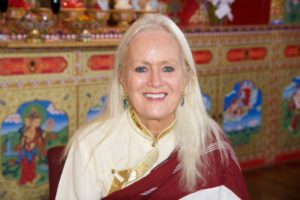 Lama Tsultrim Allione
Lama Tsultrim Allione is founder and resident lama of Tara Mandala.  She is author of Women of Wisdom and Feeding Your Demons. Born in New England to an academic/publishing family, she traveled to India in her late teens and was ordained as a Buddhist nun at the age of 22…
Learn more about Lama Tsultrim Allione