Generating Bodhicitta, the Heart of Compassion
With Drubpön Lama Karma
July 3 - 7, 2019
Generating Bodhicitta, the heart of compassion, is the essence of the Buddha's teachings: it is the heartfelt wish to awaken for the benefit of all beings. During this retreat, Drubpön Lama Karma will provide instruction on how to develop the mind of Bodhicitta, which is an essential part of Mind Training (Lojong) as well as the sole and supreme practice—much needed in our times—of benefiting all sentient beings.
During this retreat Drubpön Lama Karma will teach from the text Bodhicitta: The Main Path to Enlightenment (སེམས་བསྐྱེད་བྱང་ཆུབ་གཞུང་ལམ།) by the great master, Karma Chagmé.
This retreat is open to all.
NOTE: On Saturday, July 6, we will also celebrate the 25th Anniversary of Tara Mandala with Lama Tsultrim, Lama Karma and others. This event is included with the registration for the retreat.
Suggested Dana: $200 – $250
Teacher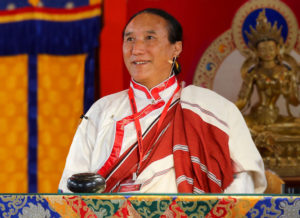 Drubpön Lama Karma
Venerable retreat master (Drubpön) Lama Karma was born in eastern Bhutan and joined the Long-Nying Chöling Monastery at a young age. His root teacher was Lama Naljorpa, the great yogi of Mahamudra and Dzogchen, from whom he received numerous vows, empowerments, instructions and oral transmissions, including the Chöd Rinchen Trengwa…
Learn more about Drubpön Lama Karma