Gateway: Outer Rushen (By Invitation Only – Garudas)
With Lama Tsultrim Allione
August 13 - 18, 2019
This retreat is required for all Complete Transmission (Garuda) participants who have completed their samaya for the Tsalung practices.
These are closed teachings open only to those who are part of the Garuda Complete Transmission Program.
If you are attending Drubchen and wish to stay on the land between retreats, choose three extra nights. Extra night lodging is only an option for those taking two consecutive retreats.
Suggested Dana: $240 – $300
Teacher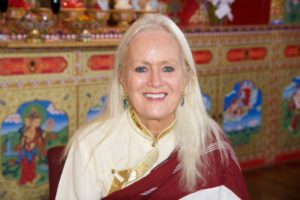 Lama Tsultrim Allione
Lama Tsultrim Allione is founder and resident lama of Tara Mandala.  She is author of Women of Wisdom and Feeding Your Demons. Born in New England to an academic/publishing family, she traveled to India in her late teens and was ordained as a Buddhist nun at the age of 22…
Learn more about Lama Tsultrim Allione