Tara Mandala Rising: Celebrating 25 Years
With Lama Tsultrim Allione and Drubpön Lama Karma
July 6 - 7, 2019
Tara Mandala has become a vibrant international community and a refuge for many who wish to study and practice Dharma. For five decades, Lama Tsultrim's vision of elevating the empowered feminine in dharma has been a beacon for many, and in 1993, she established Tara Mandala as a home for her vision to flourish. As we step into the future, we recognize how her teachings have set in motion a broader conversation about our role in the world and the impact of personal transformation. Lama's recent book, Wisdom Rising, invites us to step into this paradigm more fully, to "in-power" ourselves through practice so that we become "empowered" to bring forth healing and equity in the world.
During this celebration, Lama Tsultrim and guests will share powerful stories and teachings about how Tara Mandala can move forward with the profound intention to serve present and future generations of students.
For anyone who would like to stay overnight there are overnight accommodations available. If you are leaving after the days events please choose 'Event Only'.
This event is open to all. It begins with a mandatory check-in between 9:00 am and 9:30 am
Tentative schedule:
9:00 am – 9:30 am – Check-in
10:00 am -10:30 am – Hike/Walk to Prayer Flag Ridge
10:30 am – 12:45 pm – Shamatha Meditation
1 pm – Lunch & Karma Yoga
3 pm – 5 pm – Intimate Dialogue with Lama Tsultrim Allione and Special Guests
6 pm – Tsog Celebration
For overnight guests:
7:00 am – 7:45 am – Morning Meditation
8:00 am – Breakfast & Check-out
Teachers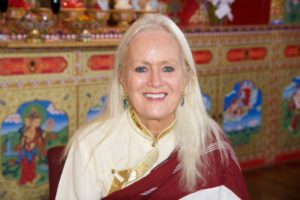 Lama Tsultrim Allione
Lama Tsultrim Allione is founder and resident lama of Tara Mandala.  She is author of Women of Wisdom and Feeding Your Demons. Born in New England to an academic/publishing family, she traveled to India in her late teens and was ordained as a Buddhist nun at the age of 22…
Learn more about Lama Tsultrim Allione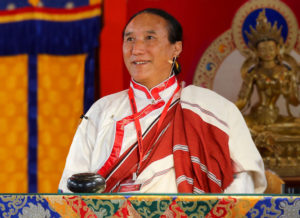 Drubpön Lama Karma
Venerable retreat master (Drubpön) Lama Karma was born in eastern Bhutan and joined the Long-Nying Chöling Monastery at a young age. His root teacher was Lama Naljorpa, the great yogi of Mahamudra and Dzogchen, from whom he received numerous vows, empowerments, instructions and oral transmissions, including the Chöd Rinchen Trengwa…
Learn more about Drubpön Lama Karma