Green Tara Practice
With Tulku Ösel Dorje
November 20 - 22, 2020
**Registration deadline: November 17**
Due to the high number of participants the course cannot take place on location at Kamalashila Institute. It will now be offered as an online course at Kamalashila Online.
Enter the Mandala of Green Tara, the female buddha of compassion, who swiftly provides protection from fear and suffering. Green Tara is accessible even to those who have not received the initiation of Tara, she is simply present to all those who call upon her. She sits with one foot in the meditative posture and one foot in the world, thus embodying active compassion that serves as a model for our modern contemplative life style.
This profound and concise Green Tara practice comes from the Ösel Dorje Sangdzod (Secret Treasury of Vajra Luminosity), a terma cycle revealed by Adzom Drukpa Drodul Pawo Dorje (1842-1924) that has been transmitted in an unbroken dharma lineage from Adzom Rinpoche to Tulku Ösel Dorje.
In this retreat you will learn how perform deity visualization, mantra recitation, mudras, musical offering and feast offerings. Taken together these form the essential activities for all tantric developmental stage practices. This retreat will be a great opportunity for new and old students alike to deepen their understanding and knowledge of the Green Tara practice.
English with German translation.
Time Table
** Listed times are Central European Time (CET)**
Friday, November 20
6 pm – 8 pm Introduction to the Sublime Green Tara
Saturday, November 21
10 am – noon Teachings on Green Tara
3 pm – 5 pm Teachings on Green Tara and Q&A
7 pm – 8 pm Green Tara practice session
Sunday, November 22
8 am – 9 am Green Tara practice session
10 am – noon Teachings on Green Tara
3 pm – 5 pm Teachings Green Tara feast offering and Q&A
7 pm – 9 pm Green Tara practice session with closing feast offering
Commitment
Everyone participating in this weekend program is required to attend all of the sessions as the lung for these Green Tare teachings is given simultaneously with the teachings.
Course Fee
150,- Euro (Standard)
120,- Euro (reduced fee for members of the Karma Kagyü Association)
250,- Euro (Sponsor price – to support the Institute)
Teacher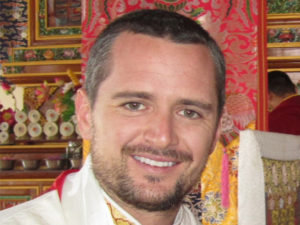 Tulku Ösel Dorje
From his own personal retreat practice, Ösel Dorje has gained a strong appreciation for the importance of developing a deep understanding of the philosophical side of Buddhist study, while bringing it to life through meditation experience. Inspired by stories of realized masters of the past, Ösel Dorje has spent time…
Learn more about Tulku Ösel Dorje