Opening the Heart Sutra: Self-Paced Program
With Lama Tsultrim Allione
Open Dates
In this self-paced program, Lama Tsultrim Allione teaches on the history and philosophical meaning of the Heart Sutra, the most widely beloved condensation of the Prajnaparamita literature. But despite its brevity and pithy nature, the Heart Sutra can be an easy source of confusion for those new to Mahayana philosophy. With the famous passage "Form is emptiness, emptiness is form," one might miss that within the clever wordplay is the very foundation of the Middle Way.
Lama Tsultrim says of this essential text, "Our heart is the core of our body. We can do without our arms and legs, and so on, but we can't do without our heart. It's said in Buddhist teachings that, at the time of death, the consciousness distills into the heart. This Heart Sutra is the core of the whole thing. You boil it down, and this is it."
Key Features
Engage with the concise, pith teaching of Prajnaparamita, in this profound conversation between Shariputra and Avalokiteshwara.  
What Will I Learn?
Through guiding participants line-by-line through the sutra, program participants will receive a functional overview of Mahayana philosophy and gain deeper insight into the world of this treasured text.
Who Is This Course For? 
For those interested in studying the Heart Sutra more intensely, either on it's own or as a supplement to the Prajnaparamita practice. 
Prerequisites:
No prerequisites

No transmission needed (Tib.

lung

)
Includes:
3 hours of video teachings

MP3 download of the teachings and The Heart Sutra read by Lama Tsultrim

PDF download of the Heart Sutra (in English and in Tibetan)
The course includes seven sessions of filmed teaching with Lama Tsultrim, practice texts, and audio recordings. 
Please visit the Dakini Store for optional items to support your practice. Suggested materials include: The Heart Sutra Practice Text (print version of the practice text).
Program Price: $95  
Teacher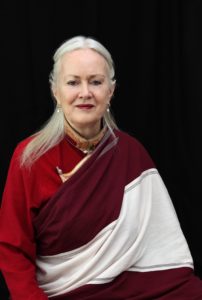 Lama Tsultrim Allione
Lama Tsultrim Allione is the bestselling author of Women of Wisdom (1984), Feeding Your Demons (2008), and Wisdom Rising Journey into the Mandala of the Empowered Feminine (2018). Lama Tsultrim is the founder of Tara Mandala, a 700-acre retreat center with the three-story temple and library  dedicated to the divine…
Learn more about Lama Tsultrim Allione