Ösel Nyingtig Cycle: Tröma Chöd (online)
With Tulku Ösel Dorje
January 19 - 21, 2024
This three-day virtual retreat is intended for members of the Ösel Nyingtig Cycle. During this intensive, we will learn Tröma Nagmo's (the blue-black wrathful feminine's) ultimate practice of Chöd, known as the 'Self-Liberation of Ego Clinging. This Chöd practice that teaches the supreme form of generosity was revealed by A.dzom Paylo Rinpoche at Tara Mandala as a mind treasure (or terma).
The teachings of this practice are based on the oral instructions that A.dzom Rinpoche gave on three separate occasions over a period of eight years. The profound skillful means of these essential Chöd instructions can transform all limitations and delusions into primordial wisdom. By transforming these obstacles, practitioners bring forth the dynamic enlightened mind of the Great Mother, Prajñaparamita, and take primordial wisdom as the path. This is a required retreat for practitioners in the Ösel Nyingtig Cycle.
In this retreat, you will have the opportunity to:
Receive the oral transmission (Tib. lung) and all the necessary instructions for this Chöd practice. 

Learn how to engage with the traditional musical instruments of Chöd, the specific melodies, and the visualizations for practicing this Chöd.

Who Can Attend?
This teaching on Tröma's Practice of Chöd is permeated with the secret Dzogchen teachings and is considered extremely esoteric and advanced. Therefore, this practice is only open to:
Participants of the Ösel Nyingtig Program,

Anyone who has been practicing any of the practices from the Ösel Nyingtig, and/or

Anyone who has received teachings from A.dzom Paylo Rinpoche
Is there a Practice Commitment after receiving these teachings?
Yes. For members of the Ösel Nyingtig Program at Tara Mandala. The emphasis of the Ösel Nyingtig lineage is meditation; therefore, the commitment that comes with receiving this transmission and instruction is a daily practice for the remainder of the year and up until the subsequent annual Ösel Nyingtig retreat in 2024. The time commitment will be approximately one hour a day, and involves doing one of the Ösel Nyingtig practices such as the Yeshe Tsogyal sadhana (which can be shortened to allow for this Chöd to be added) and this Tröma Chöd practice. This commitment is recommended, but not required, for Ösel Nyingtig practitioners from Dawn Mountain or other lineage students external to Tara Mandala. 
To prepare for this retreat, you will need:
A bell & dorje, Chöd drum, and kangling (wood or resin is fine), all of which are available through our Dakini Store. Note: it is not required that you have all of these items upon attending the retreat, however, eventually they are necessary to do the full practice.
Recording Access: 
All participants will have a 1-year access period to the recordings.
What is a Tara Mandala Online Program?
Tara Mandala offers online programming via live and pre-recorded curriculum that give you the opportunity to access dharma teachings, engage in guided practice, experience personal retreat and hands-on learning, while connecting with other participants through easy-to-use online platforms and an engaged community network. When needed, the program description and schedule will inform you in advance if and when a specific online session must be attended live if a direct transmission (Tib. lung) may be given. Access to recordings of all sessions will be available for additional viewing for one year. 
Tara Mandala Program Pricing
GENEROSITY RANGE
Choose an amount within this range if you have the financial security and capacity to support Tara Mandala at a higher level. The contributions we receive within this range make it possible for us to offer a below-cost Access Range to those practitioners with a limited income.
 This range is for you if you:
Own your own home and live comfortably without financial worry

Have investments and savings 

Easily have access to money in times of need or emergencies

Have the desire to help make the Dharma more accessible to others
SUSTAINABILITY RANGE  
Choose an amount within this range if you have the financial capacity to sustain Tara Mandala's ability to offer high-quality programs. The contributions we gratefully receive within this range enable us to keep our prices low while covering the basic program costs. 
 This range is for you if you:
Have the capacity to meet your basic financial needs

Make your rent or mortgage and other monthly payments 

Are generally able to purchase new items and experiences for yourself

Can afford to take trips and go on retreats
ACCESS RANGE  
Choose an amount within this range if you have limited financial capacity or are currently experiencing financial hardship. The contributions we gratefully receive within this range go toward covering costs and are supported by contributions of those who choose the Generosity Range.
 This range is for you if you:
Have difficulty meeting your basic financial needs 

Are experiencing housing, employment, or income instability

Live paycheck-to-paycheck and and lack money in times of need

Face challenges due to devaluation of your currency against the US dollar. 
Offering dana to the teacher: The practice of offering dana, which means "generosity," is the traditional offering the student makes to the teacher as a symbol of appreciation, gratitude, and reciprocity for receiving the precious teachings. Information on offering dana to the teacher will be provided during the virtual retreat. To learn more about dana and suggested dana ranges, please click here. 
Payment Plans and Financial Assistance
Tara Mandala offers two types of financial assistance: Deferred Payment Plans and Scholarships. You may apply for one or both of these types of assistance. Read the terms carefully as outlined on the financial aid application. Please see this page for further information.

Sustaining Sangha:
If you are currently a member of our Sustaining Sangha, you may apply your Online Program discount to this course. To learn more about Sustaining Sangha membership, benefits, and discounts, click here.
Click Here for Our Online Programs Cancellation and Refund Policy
PROGRAM SCHEDULE
The live sessions of the program are listed below. All times are Mountain Standard Time. Please use this link to see how this daily schedule translates into your timezone.
Friday, January 19, 2024:
10:00am -12:00pm: Teaching Session (The oral transmission (Tib. lung) will be given during this session. Live attendance is required.)
3:00pm – 5:00pm: Teaching Session
5:30pm – 6:15pm: Practice Session
Saturday, January 20, 2024:
9:00am – 9:45am: Practice Session
11:00am -1:00pm: Teaching Session
3:00pm – 5:00pm: Teaching Session
5:30pm – 6:15 pm: Practice Session
Sunday, January 21, 2024:
9:00am – 9:45am: Practice Session
11:00am -1:00pm: Teaching Session
3:00pm – 5:00pm: Closing Session and Tsog
Teacher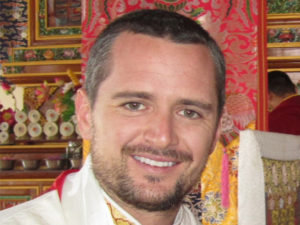 Tulku Ösel Dorje
Tulku Ösel Dorje was born in Rome, Italy in 1980 to an Italian filmmaker, Costanzo Allione, and Lama Tsultrim Allione.  Since birth, he's been immersed in the Dharma. There were often Tibetan Lamas at home and most vacations were spent at retreat centers with Lamas such as Lopön Tenzin Namdak,…
Learn more about Tulku Ösel Dorje