Ösel Nyingtig Cycle: Special Instructions of the Exceedingly Secret Tröma – Part 1 – ONLINE
With Lama Tsultrim Allione and Tulku Ösel Dorje
August 7 - 10, 2023
As it says in the root text, "Even If you were to actually meet me, Padmasambhava you would not receive a greater instruction than this.  Whoever encounters this will realize the great bliss space free of transition." 
Tara Mandala invites you to join us as we continue to progress on Troma's path of secret primordial wisdom.
In this retreat we will begin to offer the Special Instruction on the Exceedingly Secret Tröma, known as the Perfection of Secret Primordial Wisdom. Observing the sequence found in this text we will begin this special method for accomplishing secret primordial wisdom by offering the preliminary practices associated with Troma Nagmo. Followed by the first of five instructions for purifying deluded awareness and appearances. The special feature of this dharma is that each one of these instructions has incredible implications and meaning that needs to be understood. Each instruction when practiced reveals the basis for receiving the next instruction. With each instruction we ascend levels of subtlety and meaning as we progress on the path. Whether one receives all these instructions in the coming years or not will depend on one's commitment to practice. 
What to Expect?
Anyone who is in the Ösel Nyingtig program will be asked to commit to doing the practices taught in this retreat everyday until we meet again as they have for the other Ösel Nyingtig practices. 

This online offering will be taught concurrently with the Ösel Nyingtig Gathering taking place at Tara Mandala in Colorado. For this reason, please expect the daily schedule of teachings to coincide with the flow of the schedule for the in-person retreat. Please see below the tentative schedule.
Who Can Attend?
Anyone who has maintained the practice samaya for Dakini Ngöndro, Yeshe Tsogyal, and Tröma Nagmo sadhana. If you want to attend but are not sure if you qualify, please contact

oselnyingtig@taramandala.org

.
To prepare for this retreat, you will need:
Recording Access: 
All participants will have a 1-year access period to the recordings. 
What is a Tara Mandala Online Program?
Tara Mandala offers online programming via live and pre-recorded curriculum that give you the opportunity to access dharma teachings, engage in guided practice, experience personal retreat and hands-on learning, while connecting with other participants through easy-to-use online platforms and an engaged community network. When needed, the program description and schedule will inform you in advance if and when a specific online session must be attended live if a direct transmission (Tib. lung) may be given. Access to recordings of all sessions will be available for additional viewing for one year. 
Tara Mandala Program Pricing
GENEROSITY RANGE 
Choose an amount within this range if you have the financial security and capacity to support Tara Mandala at a higher level. The contributions we receive within this range make it possible for us to offer a below-cost Access Range to those practitioners with a limited income.
 This range is for you if you:
Own your own home and live comfortably without financial worry

Have investments and savings 

Easily have access to money in times of need or emergencies

Have the desire to help make the Dharma more accessible to others
SUSTAINABILITY RANGE  
Choose an amount within this range if you have the financial capacity to sustain Tara Mandala's ability to offer high-quality programs. The contributions we gratefully receive within this range enable us to keep our prices low while covering the basic program costs. 
 This range is for you if you:
Have the capacity to meet your basic financial needs

Make your rent or mortgage and other monthly payments 

Are generally able to purchase new items and experiences for yourself

Can afford to take trips and go on retreats
ACCESS RANGE  
Choose an amount within this range if you have limited financial capacity or are currently experiencing financial hardship. The contributions we gratefully receive within this range go toward covering costs and are supported by contributions of those who choose the Generosity Range.
 This range is for you if you:
Have difficulty meeting your basic financial needs 

Are experiencing housing, employment, or income instability

Live paycheck-to-paycheck and and lack money in times of need

Face challenges due to devaluation of your currency against the US dollar. 
Offering dana to the teacher: The practice of offering dana, which means "generosity," is the traditional offering the student makes to the teacher as a symbol of appreciation, gratitude, and reciprocity for receiving the precious teachings. Information on offering dana to the teacher will be provided during the virtual retreat. To learn more about dana and suggested dana ranges, please click here. 
Payment Plans and Financial Assistance
Tara Mandala offers two types of financial assistance: Deferred Payment Plans and Scholarships. You may apply for one or both of these types of assistance. Read the terms carefully as outlined on the financial aid application. Please see this page for further information.
Sustaining Sangha:
If you are currently a member of our Sustaining Sangha, you may apply your Retreat discount to this course.
Click Here for Our Online Programs Cancellation and Refund Policy
ONLINE PROGRAM SCHEDULE
The live sessions of the program are listed below. All times are Mountain Daylight Time. Please use this link to see how this daily schedule translates into your timezone.
TENTATIVE SCHEDULE
Monday, August 7
7:00am (MDT): Morning Practice – Dakini Ngöndro   
10:00am – 12:45pm (MDT): Teaching Session- Troma Secret Instructions 
3:45pm – 5:45pm (MDT): Teaching Session- Troma Secret Instructions 
7:45 pm (MDT): Evening Practice- (Troma Secret Instructions + Chöd Practice) 
Tuesday, August 8
7:00am(MDT): Morning Practice – Dakini Ngöndro
10:00am – 12:45pm(MDT): Teaching Session- Troma Secret Instructions 
3:45pm – 5:45pm(MDT): Teaching Session- Troma Secret Instructions 
7:45 pm(MDT): Evening Practice- (Troma Secret Instructions + Chöd Practice)
Wednesday, August 9 
7:00am(MDT): Morning Practice – Dakini Ngöndro  
10:00am – 12:45pm(MDT): Teaching Session- Troma Secret Instructions 
3:45pm – 5:45pm(MDT): Teaching Session- Troma Secret Instructions; Q&A with Lama Tsultrim
7:45 pm(MDT): Evening Practice- (Troma Secret Instructions + Chöd Practice)
Thursday, August 10, 2023
7:00am(MDT): Morning Practice – Dakini Ngöndro  
10am – 12:30pm(MDT): Final Session and Closing Tsog
Teachers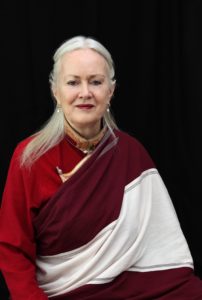 Lama Tsultrim Allione
Lama Tsultrim Allione is the bestselling author of Women of Wisdom (1984), Feeding Your Demons (2008), and Wisdom Rising Journey into the Mandala of the Empowered Feminine (2018). Lama Tsultrim is the founder of Tara Mandala, a 700-acre retreat center with the three-story temple and library  dedicated to the divine…
Learn more about Lama Tsultrim Allione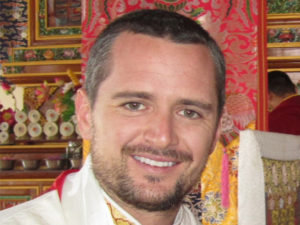 Tulku Ösel Dorje
Tulku Ösel Dorje was born in Rome, Italy in 1980 to an Italian filmmaker, Costanzo Allione, and Lama Tsultrim Allione.  Since birth, he's been immersed in the Dharma. There were often Tibetan Lamas at home and most vacations were spent at retreat centers with Lamas such as Lopön Tenzin Namdak,…
Learn more about Tulku Ösel Dorje