Machig Labdrön's Longevity Practice (Retreat in Germany)
With Lama Tsultrim Allione
September 8 - 10, 2023
Lama Tsültrim Allione will be offering a rare precious practice she received in the cave of Machig Labdrön in Bhutan, Machig Labdrön's Longevity Practice. It includes Guru Yoga of Machig Labdrön, the great 11th century Tibetan teacher, with the use of subtle breath and visualization for the retrieval and re-establishment of the life force, vital essence, and 'lha' or soul energies of the 5 Buddha Families that have been lost or stolen. This practice revitalizes and reinforces the life force in the body and thus increases longevity.
Requirements for the retreat
Participation in one of Tara Mandala's programs (Magyu, Gateway, Ösel Nyingtig) OR substantial experience in Vajrayana (at least one year of regular sadhana practice, for example Green Tara, Vajrasattva etc. or Ngöndro).
Dana
According to Buddhist tradition, Lama Tsültrim receives for these teachings no fee but a voluntary Dana. Dana means generosity and is the expression of respect and gratitude for the teachings. Course participants are invited to give a dana amount according to their financial means. Recommendation 50-150 Euro (per day 25-75 Euro).
Course fees: 150,00 € (in individual cases reduction to 15,00 € possible on request) plus accommodation and meals.
Teacher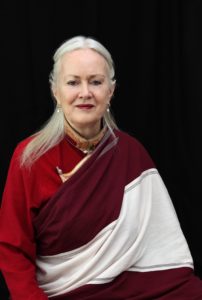 Lama Tsultrim Allione
Lama Tsultrim Allione is the bestselling author of Women of Wisdom (1984), Feeding Your Demons (2008), and Wisdom Rising Journey into the Mandala of the Empowered Feminine (2018). Lama Tsultrim is the founder of Tara Mandala, a 700-acre retreat center with the three-story temple and library  dedicated to the divine…
Learn more about Lama Tsultrim Allione