The Machig Labdrön Chöd Empowerment (Retreat in Germany)
With Lama Tsultrim Allione
September 11, 2023
This principle abhisheka for the oral tradition of Machig Labdrön is from the Rinchen Trengwa Cycle from the 3rd Karmapa Rangjung Dorje. Lama Tsultrim herself was recognized in 2007 as emanation of Machig Labdrön by the abbot of Machig Labdron's main monastery in Tibet and by Lama Tshering Wangdu Rinpoche, the main lineage holder of the Chöd tradition from Tingri Langkhor. Lama Tsultrim was authorized to give the empowerment by Lama Tshering Wangdu who gave her his own empowerment torma, the main ritual object for this empowerment, which he had used for many years.
To receive this empowerment is a very precious opportunity, because Lama Tsultrim is considered to be an emanation of Machig Labdron and it is given only in person.
Prerequisites for receiving the empowerment: Refuge and Bodhisattva Vows and a background in Vajrayana Buddhism.
Binding registration by 4 September.
Time | 6 p.m. till 9.30 p.m.
Admission from 5.30 p.m.
regularly 75 Euro | for members 55 Euro | reduced 45 Euro
Teacher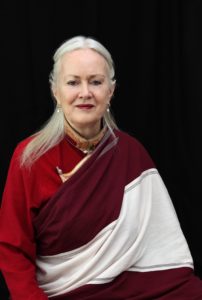 Lama Tsultrim Allione
Lama Tsultrim Allione is the bestselling author of Women of Wisdom (1984), Feeding Your Demons (2008), and Wisdom Rising Journey into the Mandala of the Empowered Feminine (2018). Lama Tsultrim is the founder of Tara Mandala, a 700-acre retreat center with the three-story temple and library  dedicated to the divine…
Learn more about Lama Tsultrim Allione