Celebrate the Magic of Tara Mandala (Online)
With Lama Tsultrim Allione
November 4, 2023
We are gathering to celebrate the magic of Tara Mandala as we enter into our 30th year. Join Lama Tsultrim and the Tara Mandala community as we celebrate and share the magic and wonder that Tara Mandala continues to manifest in the world.
Connect with each other during this online fundraiser and "fun"-raiser as beloved teachers and sangha members share nostalgic, funny, and inspiring stories of magical moments at Tara Mandala, show your moves during our dance party, bid on amazing offerings during the exciting live auction, and more! We hope you can come and be part of this memorable community celebration with us. Everyone is welcome!
This event will take place from 11:00am-12:30pm (Mountain Daylight Time) on Saturday, November 4, 2023. Click here to see how this translates into your time zone.
Who Should Attend? 
All are welcome!
Recording Access: 
All participants will have a 1-year access period to the recordings.
Tara Mandala Program Pricing
GENEROSITY RATE 
Choose this rate if you have the financial security and capacity to support Tara Mandala at a higher level. The contributions we receive at this rate make it possible for us to offer a below-cost Access Rate to those practitioners with a limited income.
 This rate is for you if you:
Own your own home and live comfortably without financial worry

Have investments and savings 

Easily have access to money in times of need or emergencies

Have the desire to help make the Dharma more accessible to others

ACCESS RATE  
Choose this rate if you have limited financial capacity or are currently experiencing financial hardship. The contributions we gratefully receive at this rate go toward covering costs and are supported by contributions of those who choose the Generosity Rate.
 This rate is for you if you:
Have difficulty meeting your basic financial needs 

Are experiencing housing, employment, or income instability

Live paycheck-to-paycheck and and lack money in times of need

Face challenges due to devaluation of your currency against the US dollar. 
Registration: There are two registration options for this program, which support Tara Mandala's scholarship programs and the Tara Mandala Offering Bowl, which supports all our dharmic activities throughout the year. 
$ 25 – Access Rate
$125 – Generosity Rate
If you are unable to join us for this program and would still like to contribute to the fundraiser, you can donate through this link.
Teacher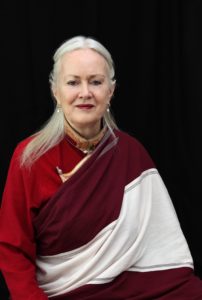 Lama Tsultrim Allione
Lama Tsultrim Allione is the bestselling author of Women of Wisdom (1984), Feeding Your Demons (2008), and Wisdom Rising Journey into the Mandala of the Empowered Feminine (2018). Lama Tsultrim is the founder of Tara Mandala, a 700-acre retreat center with the three-story temple and library  dedicated to the divine…
Learn more about Lama Tsultrim Allione