Wisdom & Wellbeing: Presence, Practice, and the Neuroscience of Connection (Retreat in Costa Rica)
With Lama Tsultrim Allione
January 20 - 27, 2024
Presence, Practice, and the Neuroscience of Connection
Join Lama Tsultrim Allione for the Wisdom & Wellbeing Week series at Blue Spirit Retreat Center in Costa Rica where she and other acclaimed teachers will offer a wide variety of programs and workshops from January 20-27, 2024.
Lama Tsultrim will teach on two subjects: Feeding Your Demons and Nature of Mind.
The nature of mind practices come from the 8th Century in Oddiyana, Land of the Dakinis. She will also be teaching Feeding Your Demons, a five-step process for meeting and nurturing our demons, including depression, anxiety, and trauma, and then finding the supportive ally. This method has been proven to be effective through several studies.
The program includes:
· All classes and program with world renowned teachers for this week
· Gourmet vegetarian and vegan meals from our Buffet-plus fish being served three times during the week.
· Blue Spirit amenities such as the Longevity Center, salt water pool and direct beach access.
Learn more and register here. 
Teacher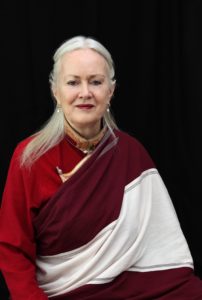 Lama Tsultrim Allione
Lama Tsultrim Allione is the bestselling author of Women of Wisdom (1984), Feeding Your Demons (2008), and Wisdom Rising Journey into the Mandala of the Empowered Feminine (2018). Lama Tsultrim is the founder of Tara Mandala, a 700-acre retreat center with the three-story temple and library  dedicated to the divine…
Learn more about Lama Tsultrim Allione