Return to Zangri – Pilgrimage to Bhutan 2020
THIS TRIP HAS BEEN POSTPONED DUE TO COVID-19.
October 22 – November 5
In 2020 we will return to Bhutan to Druk Zangri Khamar, the seat of Machig Labdrön's lineage in Bhutan established in 1952 by a Tibetan Lama who through clairvoyance knew that the Chinese would invade Tibet. His Bhutanese disciple gave refuge to him and thirty disciples in Bhutan. At this time he had a vision of land shaped like a lotus where they would establish their monastery.  
The group walked out of Tibet in 1952, the prophesied land was found in Northeast Bhutan and thus Druk Zangri Khamar was established. It lies on a spectacular ridge in the center of a lotus ring of snow mountains. Because of the Tibetan Lama's prescience, the group was able to carry the texts, instruments and other precious relics of Machig Labdrön out before the Chinese destroyed everything in Tibet.
When we arrive in 2017 we were told he also predicted our visit. By chance we arrived at the time of the annual Machig Drubchö, and we had a wonderful visit. Pilgrims from our group stayed in homestays with the yogis or camped in comfortable tents near the monastery. At the end of our visit we were able to raise funds to build the first local school and a retreat center. These projects have now been completed.
During the 2020 pilgrimage Return to Zangri Lama Tsultrim will lead us along with Authorized Teachers: Lopön Chandra Easton and Polly Ryan, MA. We will be visiting our sister Sangha from across the earth and dive deeper into our tradition. We will learn the actual melodies and dances from Machig's seat in Tibet, Zangri Khamar. We will then participate in their annual Drubchö and eventually return home to establish these traditional practices in our Sangha.
One of the exciting things about this pilgrimage is that Druk Zangri Khamar is as close as we can get to the actual tradition from the historical time of Machig Labdrön in Tibet. This is an essential piece of establishing her lineage. We welcome your participation as we Return to Zangri!
Important Note:
Traditionally pilgrimage is an important way to gain merit, purify karma, and deepen practice due to the blessings of sacred places and challenges of the trip. Although we will do our best to make sure everyone is comfortable during the pilgrimage, there may be some obstacles, discomforts, or changes that are unpredictable. A pilgrim needs to be aware that we will be traveling in areas where the infrastructure is much more primitive than the West. We ask that you take out your own medical/travel insurance and consult your doctor about immunizations etc.
The altitude at Druk Zangri Khamar is about 5000 feet and we will be camping or staying in homestays. This trip is not appropriate for those with health conditions that would be affected by these conditions.
Group size: 35 max
All group members are requested to arrive atleast 24 hours ahead of time in Bangkok, Thailand. The flights to Paro depart very early in the morning from Bangkok. You need a buffer to account for any possible delays
Day 1 – Oct. 22: Group departs from Bangkok, Thailand to Paro, Bhutan. Rest in hotel and opening circle
Day 2 – Oct. 23: Rest day in Paro. Visit Chungtrul Rinpoche's land, a beautiful site in the Paro Valley
Day 3 – Oct. 24: Fly to Bumthang Airport from Paro. Visit the Kyeme Temple where Guru Rinpoche left his body print. Overnight in Bumthang.
Day 4 – Oct. 25: Drive from Bumthang to Druk Zangri Khamar, a winding journey through the valleys and hills of Bhutan passing wild monkeys and beautiful waterfalls and flowering trees.
Day 5 – 11 – Oct. 26 – Nov. 1: Stay at Druk Zangri Khamar
Here at our 'sister center' across the world, we will learn the melodies from Zangri Khamar, Tibet, and the ritual practices linked to the Rinchen Trengwa sadhana. During our stay we will participate in their annual Rinchen Trengwa Drubchö, where they practice the entire Rinchen Trengwa for three consecutive days in hauntingly beautiful melodies.
The lineage from Druk Zangri Khamar dates back to the 3rd Karmapa Rangjung Dorje and continues through the Karmapas and the great female master Shugsep Jetsun Rinpoche (1852–1953), revered as one of the last century's best known female teachers, who passed away at the age of 101 in Tibet. It was introduced to Bhutan and established at Druk Zangri Khamar, in Rawabi village, Lhuentse, Eastern Bhutan by Trulshik Rigdzin Lingpa Rinpoche and his heart student Togden Tsewang Choephel in the 1950s.
Day 12 – Nov. 2: Drive to Bumthang, overnight in Bumthang. The 100,000 valleys of central Bhutan where there are many important sacred places.
Day 13 – Nov. 3: Fly from Bumthang to Paro, stay overnight in Paro (if there is a flight)
Day 14 – Nov. 4: Visit Tiger's Nest and Machig Labdrön's cave. Paro Taktsang (Tiger's Nest) is Bhutan's most well-known site – a majestic temple complex built around the cave where Guru Rinpoche, Padmasambhava, meditated for three years. Machig Labdrön's cave is nearby. On the 2017 pilgrimage to Bhutan Lama Tsutlrim had a vision of Machig where she received the third practice from her.
For those who choose not to make the hike there will be a pilgrimage to significant temples and sacred sites in the Paro Valley such as Dilgo Khyentse's monastery.
Day 15 – Nov. 5: Departure from Paro to Bangkok, Thailand
You must have been in either of Tara Mandala's practice programs, Magyu or Gateway, (for at least a year) OR you must have done at least three retreats in person with Lama Tsultrim.
You also must have learned the Chögyal Namkhai Norbu Chöd in retreat or online. Parchangma Chöd is recommended though not required. You can register for the online course on Chögyal Namkhai Norbu Chöd here.

You must be in good physical and mental health and be able to camp (albeit with a comfortable mat and pillow!).
Lama Tsultrim will review all applications. You will be informed about your acceptance in the shortest delays.
Overview:
$5,980 per person (double occupancy)

The first payment of 50%, or $2,990 is due upon registration. $850 of this is nonrefundable

The final payment is due by July 22, 2020
Cost includes:
Group meets in Bangkok, by Oct 21 and leaves on Oct. 22 for Paro, Bhutan (flight)
All lodging, travel and meals starting Oct. 22 when the group arrives in Paro until Nov. 5 when the group departs Paro.
Round trip Bangkok to Paro
All inland transport (air, bus, shuttles, etc.) including the roundtrip flight from Bumthang to Paro
Visa fee for Bhutan
All entrance fees to the sites
All guide fees
Cost excludes:
Airfare to and from Bangkok (approx. $600 – $1500)

Any accommodation, transportation or meals in Bangkok (approx. $200/night)

Insurance is the personal responsibility of all pilgrims

Dana at Druk Zangri Khamar (suggested $150 – $500)

Optional rental horse at Tiger's Nest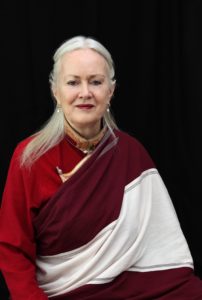 Lama Tsultrim Allione is the bestselling author of Women of Wisdom (1984), Feeding Your Demons (2008), and Wisdom Rising Journey into the Mandala of the Empowered Feminine (2018). Lama Tsultrim is the founder of Tara Mandala, a 700-acre retreat center with the three-story temple and library  dedicated to the divine…