Get Started
This course is currently closed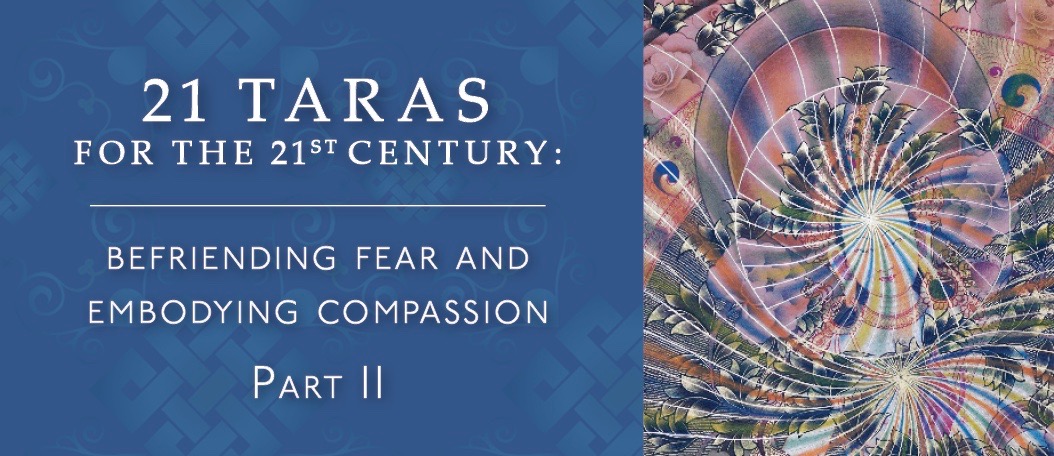 Welcome!
We are glad you are joining us on this journey to befriending fear and embodying compassion.  
May it be of benefit to you and all beings!
Overview
Our course will take place over the next six weeks.  During this second part of our two-part program, you will be introduced to Tārās 13 – 21 of the 21 Tārās. Together we will explore each Tara's symbolic meaning and purpose and share powerful and inspiring stories about both historic and modern, Buddhist and non Buddhist who embody the myriad qualities of the 21 Tārās. Each week has 2 hours of teachings, discussion, pdfs, and guided meditations.  
Note: there are various traditions of meditating on the 21 Tārās. The tradition we hold at Tara Mandala, and therefore in this course, is the Nyingma Terma tradition of Jigme Lingpa.
Getting Started
We invite you to begin by reading this page thoroughly, as it should have all the information you need to orient yourself. Please read through to the bottom so that you don't miss anything. Be sure to put the webcast dates and link (below) on your calendar.  
Lesson Structure
During each week's lesson, you will receive the following:
An oral transmission (Lung) of the mantra and commentary (Tri) of the practice for each Tara

A pdf of each Tārā sadhana (practice) 

A 'mantra circle' for each Tara mantra

Readings on historical and modern Tārās

Video and audio recordings of each webcast (posted weekly by Thursday) – note video files are not downloadable.
Structure of the Site:  To navigate the weekly lessons, scroll down to the 'Course Content' table below and select your desired week (as they become available).  Each weekly lesson will be 'opened' the day before the webcast. The Course Schedule section is open now and week 1  will become available after our first webcast on Tuesday, September 8th. Please remember to click the 'mark as complete' text at the bottom of each page or you will not be given access to the following week. You are free to return to any lesson, at any time.
Webcasts:   
Weekly Practice Opportunity with Lopon Chandra: hosted each week by the Tara Mandala SF Bay Area Sangha
Zoom: The webcasts are hosted through the platform 'Zoom'.  If  you are not already familiar with it please use this time to get familiar with it. 
If you have any problems or concerns about using Zoom, please reach out at least 48 hours before the webcast.  Once the webcast begins, we will not be able to help you with any issues that might arise.
Downloads:  Any downloads will be found in the weekly lesson where they are introduced and will also be posted week by week to the "Course Schedule and Downloads" section.
Materials: Everything you need is provided within the course, however you may want to deepen your study with one or more of the books on our recommended reading list (below).
Tara's Enlightened Activity

by Khenchen Palden Sherab

The Tara Compendium

by Chokgyur Lingpa and others (gives a nice orientation of different Tara traditions and practices).

Buddhist Goddesses of India

by Miranda Shaw (Chapter 17 on Tara)  

In Praise of Tara by Martin Wilson
The Cult of Tara by Stephen Beyer
Tara: The Feminine Divine by Bokar Rinpoche
Questions and Support:
For technical issues with your account or website, please contact

support@taramandala.org.
For questions about course content or the webcasts, please contact onlineprograms@taramandala.org
Discussion Forum:  At the bottom of every weekly overview page, you will find a 'Comments' section where you can ask questions and share your reflections and observations.  This section is where we have the opportunity to create a sense of community, connection and deepen our learning.  
Please jump in by sharing your intention for the course.