Garland of Jewels (Rinchen Trengwa) Part II
With Drubpön Lama Karma and Khandro Tsering Drolkar
December 7 - 22, 2018
Accomplishment of the Secret Path of Ten Million Dakinis
This will be a continuation of teachings on Machig Labdrön's Garland of Jewels (Rinchen Trengwa) chöd tradition. While it is not absolutely required, participants are encouraged to have attended Part I, offered April 21 – May 6. 
In this retreat we will continue to learn how to practice and perform the rhythms and melodies of the extensive Garland of Jewels sadhana, according to Khandro Tsering Drolkar's experiential instructions. In particular, there will be detailed teachings on how to perform the series of retreats that are central to this tradition. First, there is the 100 day and 100 feast retreat utilizing the main Garland of Jewels sadhana. Second, there is a three month retreat utilizing Karma Chagme's Opening the Door to the Siddhis of the Method to Accomplish the Instructions of Chöd on One Seat. Third, there is a seven day roaming retreat focusing on merging the previous instructions with Secret Yogic Conduct. Fourth, if practitioners are ready, to enhance our realization, there is a 108 day One Hundred and Eight Springs retreat that we do roaming near bodies of water. Lama Karma himself has completed all of these retreats and will offer experiential advice. Along with these experiential instructions, Lama Karma will use a number of commentaries, including the Secret Path of Ten Million Dakinis: Machig's Complete Explanation, to reveal the outer, inner, and secret meanings of Chöd practice. Lama Karma received this transmission along with rare detailed oral explanations directly from his root teacher Lama Naljorpa.
This Garland of Jewels retreat is an amazing, extremely rare opportunity to receive the extensive heart of the living Garland of Jewels oral chöd lineage that comes directly from the primordial wisdom dakini Machig Labdrön.
A 4-wheel or All-wheel drive vehicle is absolutely necessary to access Tara Mandala in winter conditions.
Suggested Dana: $480-$640
Teachers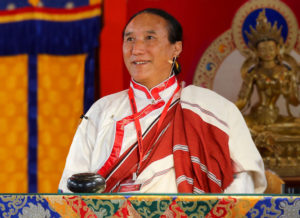 Drubpön Lama Karma
Venerable retreat master (drubpön) Lama Karma was born in eastern Bhutan and joined the Long-Nying Chöling Monastery at a young age. His root teacher was Lama Naljorpa, the great yogi of mahamudra and Dzogchen, from whom he received numerous vows, empowerments, instructions and oral transmissions, including the Chöd Rinchen Trengwa…
Learn more about Drubpön Lama Karma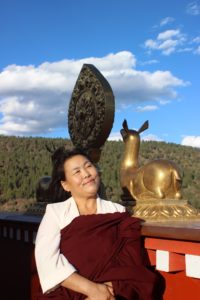 Khandro Tsering Drolkar
Khandro Tsering Drolkar was born in Bumthang, Bhutan in 1963. In 1984 she began an eleven year retreat under the guidance of her consort Lama Naljorpa at the Phurpaling Retreat Center in Tashiyangtse. During Lama Naljorpa's lifelong retreat there, she received many teachings and experiential trainings directly from him. She…
Learn more about Khandro Tsering Drolkar