Dentog Chigma: The Method for Accomplishment on One Seat With Drubpön Lama Karma
With Drubpön Lama Karma
December 18 - 22, 2018
The profound practice of Dentog Chigma, "Liberation on One Seat," combines the melodic and rhythmic aspects of traditional Chöd with the visualization and mantra recitation of deity practice. It is the main sadhana practice within the Rinchen Trengwa, "Precious Garland," the collection of practices in Machig's Kama (oral) lineage compiled by Karmapa Rangjung Dorje and Karma Chakme. This sadhana is "at the absolute core of Machig's lineage" according to Lama Tsultrim Allione.
The practice taught on this retreat uses the same text as Lama Tsering Wangdu's Dentog Chigma practice. Therefore, it fulfills the Dentog Chigma requirement for the Magyu: Mother Lineage (it is a prerequisite for Kapala Training Level 4).
Participants may choose to either attend just this Dentog Chigma retreat (Dec 18-22) or attend the entire Rinchen Trengwa retreat from December 7-22.
To register for the full Rinchen Trengwa retreat (Dec 7-22) which includes the Dentog Chigma teachings, click HERE.
On December 21st we will join together for an afternoon and evening celebrating the Winter Solstice with Lama Tsultrim. See here for more details of this event. You do not need to book separately for this as it is included as part of this retreat.
Participants will need to have a Chöd drum and bell, both of which can be purchased in the Tara Mandala Dakini store.
Dentog Chigma is required for Magyu students and recommended for anyone who is serious about the Chöd lineage.
A 4-wheel or All-wheel drive vehicle is absolutely necessary to access Tara Mandala in winter conditions.
Teacher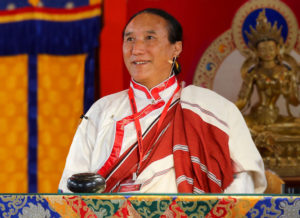 Drubpön Lama Karma
Venerable retreat master (Drubpön) Lama Karma was born in eastern Bhutan and joined the Long-Nying Chöling Monastery at a young age. His root teacher was Lama Naljorpa, the great yogi of Mahamudra and Dzogchen, from whom he received numerous vows, empowerments, instructions and oral transmissions, including the Chöd Rinchen Trengwa…
Learn more about Drubpön Lama Karma