All About Tormas, Shrine Set-Up and Tsog – VIRTUAL RETREAT
With Bodhi Stroupe and Ulrike (Ulli) Jaklin
December 12 - 13, 2020
A Tara Mandala Virtual Retreat
Are you trying to create a special space for practice at home and would like to know how to set up your shrine properly and perform Tsog? Have you been interested in making tormas at home and have felt intimidated about where to start? 
Devoted Buddhist practitioners and longtime members of our Tara Mandala community, Ulrike (Ulli) Jaklin and Bodhi Stroupe, have helped prepare and served as the Head Chöpons (activity masters in Tibetan Buddhist Rituals) for Drubchens, Drubchos and various ceremonies at Tara Mandala and other centers, learning from different Lamas, Khenpos and senior practitioners.  With dedication, they have taken care of the shrine in our beautiful Trikaya Tara temple. Now, we have an opportunity to interact with them and receive training from the comfort of our home where all questions and skill levels are welcomed!
This offering is divided into two parts.
On the First Day (Saturday) you will have the opportunity to observe and learn:
How to set up a shrine at home to support Vajrayana Buddhist practice, including information about the symbolism of outer and inner offerings.

How to make the offerings for protectors.

How to set up for offering Tsog, including what must be present in the main plates for offering Tsog, and how to take care of remainders.

How to make the dough used for Tormas. 

How to make basic torma shapes like

Kartor

,

Gegtor,

Martor

, and

Teps

for Protectors (If this sounds intimidating or foreign, rest assured you will know what they are by the end of the sessions!)

How to make

Kargyen

(white ornaments) and how to shape it.
On the Second Day (Sunday) you will have the opportunity to put your knowledge into practice:
Making tormas in real-time with Ulli and Bodhi, with personalized instructions to any challenges that arise.

Interactive Q&A
Who Should Attend? 
This retreat is open to all.

If you are a practitioner in one of our long-term programs, we particularly encourage you to attend this workshop to receive coaching on these key aspects that can enrich your practice and connection to your lineage.

We offer scholarships and deferred payment plans as resources for anyone with financial limitations. For more information and to apply, visit our

Scholarships and Financial Assistance Page

.
When you attend this workshop, you are welcome to simply observe and take notes for future reference. But, if you would like to try making your own tormas on the second day and during the live session, you will need:
These commonly found grocery store ingredients:

Quick Oats

Butter or, preferable, Ghee (clarified butter)

Small amounts of 

Milk 

Yoghurt

Honey

Molasses

Sugar

Red food coloring
Also:

Access to hot water

Bowl, cutting board, knife, mixing spoon, paint brush (will get oily and red), small plates or torma plates (if you have them)

An apron and dish towels can be useful
Optional: To enhance your practice, Tara Mandala has curated these special bundles with sacred substances and items for your shrine.
What is a Virtual Retreat?
Virtual Retreats are Tara Mandala At-Home intensive retreats, teachings and in-depth workshops during which practitioners receive dharma teachings, engage in guided practice, hands-on learning, and connect with other participants through an easy-to-use online platform (Zoom) during consecutive days (with few exceptions) and daylong offerings. This modality of learning is appropriate for practitioners who are able to create a practice container of their own, setting aside a dedicated retreat space, removing from social media, and taking care of necessities with the mind of compassion in action for the specific dates and times that the teachings occur. 
Virtual Retreats are meant to be attended live given that direct transmission (Tib. lung) may be given. However, access to recordings of the sessions are available for up to 7 days after the end of the last session for additional viewing.
Tiered-Prices
We're asking our community to support Tara Mandala financially by considering our tiered-pricing model for our virtual retreats which we are launching  in 2020 to support those in our community that cannot travel due to the pandemic. These are difficult times for everyone, and Tara Mandala is no exception. We encourage you to pay at the highest level within your capacity to support Tara Mandala, our staff, and our sangha. We thank you in advance for your support and your practice!
$160 – Essential Level
Registration at this level helps Tara Mandala cover basic costs of holding this specific retreat, including compensating our teachers. 
$196 – Luminous Level (includes a 20% discount for self-paced online courses valid for 3 months)
Registration at this level helps support basic costs of this retreat, and additionally supports our onsite staff  at Tara Mandala during this year of uncertainty.
$216 – Mandala Level (includes a 30% discount for self-paced online courses valid for 3 months)
Registration at this level helps Tara Mandala cover basic costs for this retreat, supports staff, facilities maintenance and other critical operational needs onsite this year.
Any additional contribution to our Annual Fund will allow Tara Mandala Retreat Center to continue to be a year-round center, a repository for wisdom literature, a center for translation, a beacon for the feminine in Buddhism, an active dharma center with weekly dharma study and practice that provides refuge for deep practice and transformation. If you are able to provide a generous contribution beyond the prices listed above, you will also have the opportunity to do so in your registration and/or during the retreat.
Similarly, if you would like to offer Dana to the teachers leading this retreat, the information to do so will be provided during the virtual retreat sessions.
VIRTUAL RETREAT SCHEDULE
Listed times are the online portions of the retreat. All times are Mountain Time.
Please use this link to see how this daily schedule translates into your timezone.
Saturday, December 12:
9:00am-11:00am: Shrine Set-up & Tsog Set-up
1:00pm-3:00pm: All About Tormas
Sunday, December 13:
9:00am-11:00am: Hands-on Torma Making
1:00pm-3:00pm: Closing Session and Q&A
Teachers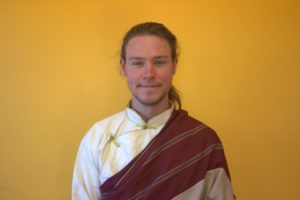 Bodhi Stroupe
Bodhi met the Dharma at the age of 18, and has been practicing for the past 14 years. He first took refuge with Kyabje Tri Rizong Rinpoche, the 102nd throne holder of the Gelugpa school of Tibetan Buddhism. Since then he has studied with many great teachers including H.H. the…
Learn more about Bodhi Stroupe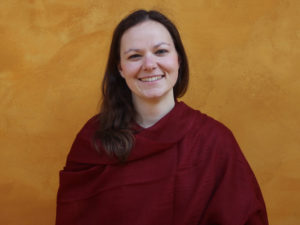 Ulrike (Ulli) Jaklin
Mag.a Ulrike Jaklin encountered Lama Tsultrim and her book Feeding Your Demons at the very beginning of her interest in Buddhism in 2011. After three and a half years of exploring different Buddhist traditions, mostly studying in India, Nepal and Japan, Ulli found her way from her home country, Austria,…
Learn more about Ulrike (Ulli) Jaklin