Unwinding the Body, Breath, and Mind into Presence: Anatomy of Meditation – VIRTUAL RETREAT
With Dorje Lopön Chandra Easton and Arturo Peal
March 27 - 28, 2021
Finding ease in your practice and enlivening your subtle body
Join us for a weekend of fun and relaxation as we guide you through therapeutic experiences that will help you find ease, comfort, and joy in your meditation practice. Often we avoid meditation due to physical limitations or discomfort, and this need not be the case. Come learn how you can adapt your meditation seat and posture so that meditation is a place of refuge and nourishment for body and soul. 
Arturo, known as the "Anatomy Whisperer" brings humor and wisdom to his teaching, with over 30 years of educating yoga teachers, body workers, and movement specialists across the globe through his classes in Anatomy, Kinesiology, and Therapeutic Touch. He has a unique gift for translating complex scientific concepts into tangible teachings for his students, raising awareness of how the body works. Arturo will offer experiential anatomy and ergonomic advice as it relates to finding ease in meditation. 
Lopön Chandra, a Dharma and Yoga teacher for over 20 years, will guide you through gentle yoga sequences, simple Buddhist breathing exercises (pranayama), and meditations on the subtle body so that you have a first hand experience of your 'subtle body anatomy' and how your physical posture can help to open up the flow of prana so that you feel energized by your practice. 
In this weekend retreat you will have the opportunity to:
Unwind the root (hips, psoas and legs)

Unwind the core (the spine, diaphragm and breath)

Unwind above (shoulders, jaw and mind)

Learn how alignment can support your optimal meditation posture

Learn therapeutic exercises and movements to bring more comfort and ease to your meditation

Find ways to adjust your meditation set-up to be right for you

Learn about physical anatomy principles that will help you have a long lasting meditation and yoga practice

Experience of subtle body anatomy and learn how to cultivate your vital energies

Learn the "gentle vase breath,"

jamlung

, for developing greater levels of comfort and concentration
Who Should Attend? 
This retreat is open to all.
To prepare for this retreat, you will need:
A tennis ball or lacrosse ball
A yoga strap or belt
A small piece of saran or similar wrap
Please wear comfortable clothing for gentle movement and meditation, have your meditation space set up so you can practice in it, and have a yoga mat or similar size carpet/floor space available to move about in.
Please enjoy this video of Lopön Chandra and Arturo Peal offering an introduction of what to expect in this retreat.
VIRTUAL RETREAT SCHEDULE
Listed times are the online portions of the retreat. All times are Mountain Time. 
Please use this link to see how this daily schedule translates into your timezone.
Saturday, March 27
9:00am – 11:30am MT: Opening Session
1:00pm – 3:30pm MT: Session
Sunday, March 28
9:00am – 11:30am MT: Session
1:00pm – 3:30pm MT: Closing Session
What is a Virtual Retreat?
Virtual Retreats are Tara Mandala At-Home intensive retreats, teachings and in-depth workshops during which practitioners receive dharma teachings, engage in guided practice, experience hands-on learning, and connect with other participants through an easy-to-use online platform (Zoom) during consecutive days (with few exceptions) and daylong offerings. This modality of learning is appropriate for practitioners who are able to create a practice container of their own, setting aside a dedicated retreat space, removing themselves from social media, and taking care of necessities with the mind of compassion in action for the specific dates and times that the teachings occur. 
Virtual Retreats are meant to be attended live given that direct transmission (Tib. lung) may be given. However, access to recordings of the sessions are available for additional viewing for various timeframes specified by the price level selected.
Tiered-Prices
Tara Mandala offers tiered pricing for all virtual retreats to allow participants the opportunity to consider offering additional financial support for Tara Mandala while gaining greater access to the recordings of the teachings post-retreat. These are difficult times for everyone, and Tara Mandala is no exception. We encourage you to select at the highest level within your capacity to assist Tara Mandala in covering the costs to offer these wonderful teachings. We thank you in advance for your support and your practice!
$189 – Tier 1 (includes access to recordings of all sessions for up to 7 days from the end of the retreat)
Registration at this level covers the basic costs of holding this specific retreat.
$230 – Tier 2 (includes access to recordings of all sessions for up to 30 days from the end of the retreat)
Registration at this level covers basic costs of this retreat and supports the year round staff at Tara Mandala.
$255 – Tier 3 (includes access to recordings of all sessions for up to 1 year from the end of the retreat)
Registration at this level covers basic costs for this retreat, supports year around staff as well as facilities maintenance and other critical operational needs.
Choosing Tier 2 or Tier 3 levels will allow Tara Mandala Retreat Center to continue to operate, be a repository for wisdom literature, a center for translation, a beacon for the feminine in Buddhism, and an active dharma center that provides refuge for deep practice and transformation.
There are many ways to support and engage with Tara Mandala's activities. Click here to learn more. We appreciate your support and generosity! 
Offering dana to the teacher: The practice of offering dana, which means "generosity," is the traditional offering the student makes to the teacher as a symbol of appreciation, gratitude, and reciprocity for receiving the precious teachings. Information on offering dana to the teacher/s will be provided during the virtual retreat. To learn more about dana and suggested dana ranges, please click here.
Note: Tara Mandala has two scholarship funds and offers deferred payment plans as resources for anyone with financial limitations. For more information and to apply, visit our Scholarships and Financial Assistance Page. 
Artwork in graphic by Brian Blount
Leaders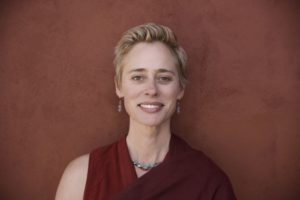 Dorje Lopön Chandra Easton
Dorje Lopön Chandra Easton studied Buddhism and Tibetan language at the Library of Tibetan Works & Archives in Dharamsala, India, founded by H.H. Dalai Lama. She later received her degree from UCSB's religious studies department at which time she co-translated Sublime Dharma, A Compilation of Two Texts on the Great…
Learn more about Dorje Lopön Chandra Easton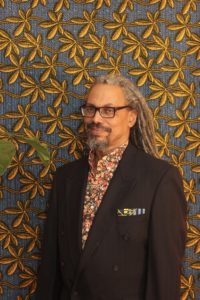 Arturo Peal
Arturo Peal has spent over 30 years inspiring and educating yoga teachers, body workers, and movement specialists across the globe through his classes in Anatomy, Kinesiology, and Therapeutic Touch. With a unique gift for translating complex scientific concepts into tangible teachings for his students, he raises awareness of how the…
Learn more about Arturo Peal