Wisdom Rising 'Live' – Online Course
With Lama Tsultrim Allione
November 6 - December 18, 2021
In this 7-week course, Lama Tsultrim will:
Guide you through the development of the feminine in Buddhism.
Introduce the mandala principle and its importance to western and eastern psychology.
Provide an in-depth overview of the fierce feminine qualities found within the five Dakini buddha families.
Additionally, students will have the opportunity to learn from Lama Tsultrim directly via 4 live webcasts where they will be able to submit questions and receive live instruction.
Click here to learn more or to register: https://www.taramandala.org/live-courses/wisdom-rising/
Leader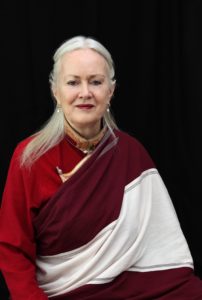 Lama Tsultrim Allione
Lama Tsultrim Allione is the bestselling author of Women of Wisdom (1984), Feeding Your Demons (2008), and Wisdom Rising Journey into the Mandala of the Empowered Feminine (2018). Lama Tsultrim is the founder of Tara Mandala, a 700-acre retreat center with the three-story temple and library  dedicated to the divine…
Learn more about Lama Tsultrim Allione