Ösel Nyingtig Cycle: Special Instructions of the Exceedingly Secret Tröma – Part 1 (Retreat in Germany)
With Lama Tsultrim Allione and Tulku Ösel Dorje
September 4 - 7, 2023
As it says in the root text, "Even if you were to actually meet me, Padmasambhava, you would not receive a greater instruction than this. Whoever encounters this will realize the great bliss space free of transition."
Lama Tsültrim Allione and Tulku Ösel Dorje invite you to join in as we continue to progress on Tröma's path of secret primordial wisdom.
In this retreat we will begin to offer the Special Instruction on the Exceedingly Secret Tröma, known as the Perfection of Secret Primordial Wisdom. Observing the sequence found in this text we will begin this special method for accomplishing secret primordial wisdom by offering the preliminary practices associated with Tröma Nagmo. Followed by the first of five instructions for purifying deluded awareness and appearances. The special feature of this dharma is that each one of these instructions has incredible implications and meaning that needs to be understood. Each instruction when practiced reveals the basis for receiving the next instruction. With each instruction we ascend levels of subtlety and meaning as we progress on the path. Whether one receives all these instructions in the coming years or not will depend on one's commitment to practice.
What to Expect?
Anyone who is in the Ösel Nyingtig program will be asked to commit to doing the practices taught in this retreat every day until we meet again as they have for the other Ösel Nyingtig practices.
Who Can Attend?
Anyone who has maintained the practice samaya for Dakini Ngöndro, Yeshe Tsogyal, and Tröma Nagmo sadhana. If you want to attend but are not sure if you qualify, please contact oselnyingtig@taramandala.org.
The next start of the multi-year Ösel Nyingtig practice cycle is scheduled for 2024. We will keep you updated!
Learn more about the Ösel Nyingtig
What to bring
Dakini Ngöndro practice text, bell and vajra, damaru, chöd drum, zen and ritual clothing (if available).
Dana
According to Buddhist tradition, Lama Tsültrim and Tulku Ösel Dorje receive for these teachings no fee but a voluntary Dana. Dana means generosity and is the expression of respect and gratitude for the teachings. Course participants are invited to give a dana amount according to their financial means. Recommendation 90–270 Euro (per day 30–90 Euro). If, as in this case, a retreat has two teachers, the amount can be divided between both – Lama Tsültrim Allione and Tulku Ösel Dorje.
Course fees: 210,00 € (in individual cases reduction to 105,00 € possible on request) plus accommodation and meals.
Teachers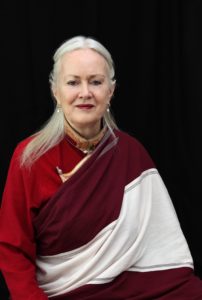 Lama Tsultrim Allione
Lama Tsultrim Allione is the bestselling author of Women of Wisdom (1984), Feeding Your Demons (2008), and Wisdom Rising Journey into the Mandala of the Empowered Feminine (2018). Lama Tsultrim is the founder of Tara Mandala, a 700-acre retreat center with the three-story temple and library  dedicated to the divine…
Learn more about Lama Tsultrim Allione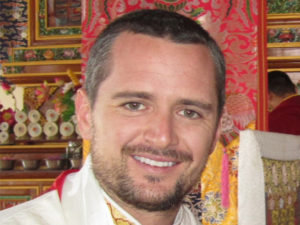 Tulku Ösel Dorje
Tulku Ösel Dorje was born in Rome, Italy in 1980 to an Italian filmmaker, Costanzo Allione, and Lama Tsultrim Allione.  Since birth, he's been immersed in the Dharma. There were often Tibetan Lamas at home and most vacations were spent at retreat centers with Lamas such as Lopön Tenzin Namdak,…
Learn more about Tulku Ösel Dorje