A  Study & Practice Program for the Dedicated Practitioner in the Terma Cycle of Dzinpa Rangdröl 'Self Liberation of Clinging', a Dzogchen terma from Do Khyentse Yeshe Dorje
Introduction
This ten-year program is for dedicated practitioners who cannot do long-term retreat but who wish to live a life imbued with intense practice. The curriculum consists of all the practices done in the traditional Vajrayana three-year solitary retreat but is adapted for the modern practitioner living in the world. This lineage is being established at Tara Mandala through the kind guidance and blessings of Tulku Sang-ngag Rinpoche, who received this cycle from his teacher, the great Dilgo Khyentse Rinpoche.
The focus of this program is the Dzinpa Rangdröl (Self Liberation of Clinging) cycle of teachings that Machig Labdrön revealed to Do Khyentse Yeshe Dorje (1800-1866). It is an extremely unique lineage as it combines the teachings of Machig Labdrön with the Dzogchen (Great Perfection) teachings. Among the many precious practices this cycle contains are three Chöd practices, the White Dakini and Tröma (two deities, or yidams, connected to Chöd), and the Trekchö and Tögal teachings that are unique to Dzogchen.
This program offers a rare opportunity to receive this exceedingly pure esoteric lineage with consistent support and structure for the dedicated practitioner. Never before has it been taught in the West. This lineage is being established at Tara Mandala through the kind guidance and blessings of Tulku Sang-ngag Rinpoche. The program is open to anyone interested who is accepted after their application and interview with Lama Tsultrim Allione. We now have three different cohorts progressing through the 10 year program, some just beginning the Dzinpa Rangdröl Ngöndro, others practicing Deity Yoga and others focusing on the Dzogchen preliminary practice of Rushen.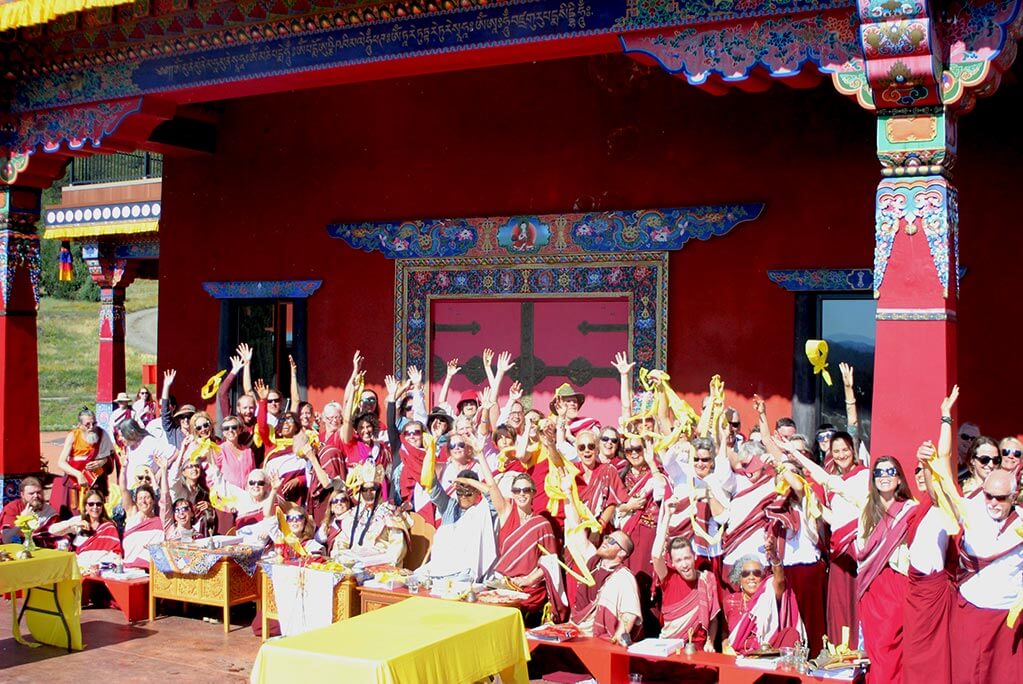 The Gateway Program is divided into two parts:
The Foundation program spans the first three years and consists of the Preliminary Practices (Ngöndro) and Parchangma Chöd. 
The Complete Transmission program spans seven years and is for those who have completed the Foundation program or have completed another Ngöndro plus ten percent of the Dzinpa Rangdröl Ngöndro. This program consists of the two yidam practices (White Dakini and Tröma), Tsalung (Tibetan Yoga including Tummo), Dzogchen preliminaries, and finally Dzogchen (Trekchö: Cutting Through and Tögal: Leap Over).
Gateway Update
At present, we are not beginning another Gateway cohort until we have completed the three cohorts we have now. Tulku Sang-gnag Rinpoche has advised us to do this. However, if someone wants to start the Dzinpa Rangdröl Ngöndro, they should contact the Tara Mandala Registrar at registrar@taramandala.org to set up an interview with Lopön Chandra Easton. If they are able to commit to finishing the Ngöndro and fulfill other basic requirements, then they may receive the Lung (oral transmission) and practice materials from the Tara Mandala bookstore. This is more of a self-study approach. Those who follow this route, are encouraged to come to our Annual White Dakini Drubchen (Dzinpa Rangdröl cycle) as often as they can and to come to the Three Yana Retreats at Tara Mandala to gain a solid foundation in Dharma (both Sutric and Tantric).